June 24, 2013 | by Rebecca Bengal
Lovers on the run tend to travel light. Generally speaking, in our collective imagination, accoutrements tend to be limited to car (probably stolen), gun (also stolen), clothes on their backs. Yet Charles Starkweather and Caril Ann Fugate (captured in 1958 after a violent shooting spree in Nebraska and Wyoming that left eleven dead) become legend in part by leaving behind a physical trail. Of the multiple films inspired by the Starkweather-Fugate killings, Terrence Malick's 1973 Badlands (newly released by the Criterion Collection), is the one that—even as it takes dramatic liberties—most explicitly focuses on these tangible objects. Kit and Holly (Martin Sheen and Sissy Spacek) cart along a birdcage, a copy of Kon-Tiki, and a Maxfield Parrish painting; the film's art director, Jack Fisk, filled one character's house with $100 worth of random pieces—a jar of black widows, a giant ball of twine—he'd bought from the relatives of a dead man. Just prior to their capture, Kit buries a few of their belongings, described in deadpan voice-over: "He said no one else would know where we put 'em, and that we'd come back some day, maybe, and they'd still be sitting here just the same, but we'd be different, and if we never got back, well, somebody might dig 'em up a thousand years from now and wouldn't they wonder."
Nearly forty years later, Christian Patterson's 2011 book of photographs, Redheaded Peckerwood, continues down a similar path. Already in its third edition, with a thoughtful introduction by Luc Sante and curator Karen Irvine, Patterson's is a work that defies the easy definition of photo book, approaching as it does the Starkweather narrative from a number of vantage points: newspaper clippings, interviews, ephemera. The photographs of bits of evidence, or of things belonging to the killers and victim—a hood ornament from the getaway car, the teenage Fugate's stuffed toy poodle—have the aura of a saint's relics. Tucked into the binding of the book are more souvenirs, reproductions of documents related to Starkweather (a store receipt with a poem printed on its reverse side; a typed list of dirty aphorisms). Even those things that are not directly related to Starkweather and Fugate take on the air of authenticity; the effect of seeing all these effects, in the context of the photographer's present-day mapping of their journey, is transcendent and shocking, the objects themselves acting as witnesses.
What struck you most about Badlands when you first saw the film?
I was taken with the film in every way. Visually, it was just so damn beautiful, with its big, painterly skies and endless, romantic landscapes. And thematically, well … it was one hell of a crazy story. Sheen and Spacek were great too. It's a great film.
What were some of the first pictures you made that appear in the book? And when you arrived in Nebraska, what were some of your early impressions?
House at Night and Ray of Light stand out in my mind. The former is the first of my photographs that appears in Redheaded Peckerwood and the latter is one of the last. Read More »
July 16, 2010 | by Lorin Stein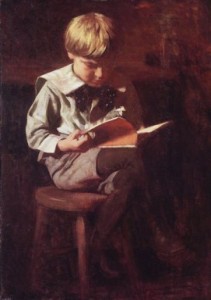 I'm looking for good books about New York to give as host/hostess gifts. What would you recommend? —Elizabeth P., New York City
There is always E. B. White's little classic Here Is New York. The old edition is the one to buy for its beautiful jacket. Ten years ago I gave a copy to my friend Matteo Pericoli, a native Italian in love with the plain style in American prose. Matteo then turned around and created an even more beautiful book: Manhattan Unfurled. This unique object, which unfolds like an accordion, consists of two thirty-seven-foot pen-and-ink drawings. One portrays the western shore of Manhattan, the other the east. Matteo also made a children's version, See the City, with pencilled annotations, e.g. "This is a power plant"; "United Nations (I drew more than 3000 little lines!)"; "This is a not-so-famous building, but I like it." I don't know which version I prefer, loving them both as I do. If your hosts lives downtown, you may also want to give them Luc Sante's Low Life, with its haunting history of the tenement city New York used to be. Then, if your hosts are unemployed, you can always give them Gotham. Once, as a house-sitter in Greenwich Village, I spent the better part of a week in a gigantic Adirondack chair reading Gotham from cover to cover. I mention the chair because you need a big sturdy comfortable one, or a book stand. There is no question of reading the book in bed.