Posts Tagged 'Lower East Side'
December 26, 2011 | by Sadie Stein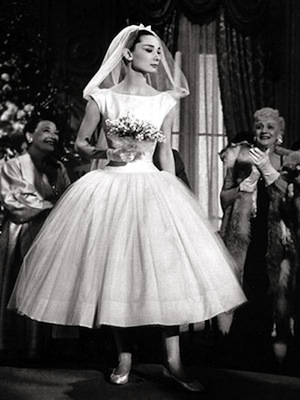 We're out this week, but we're re-posting some of our favorite pieces from 2011 while we're away. We hope you enjoy—and have a happy New Year!
Over the weekend, in preparation for Hurricane Irene, I moved clothes out of the back-room closet in our Brooklyn apartment, which in heavy rain has been known to leak. I moved coats and a few vintage pieces I never wear but which seem too peculiar to throw away. And I moved the large silver garment bag I've carried with me to six apartments in as many years.
You see, when I was twenty-four, I had a wedding dress made. It was—and remains—a beautiful dress, the sort of garment for which "confection" is actually an apt description: sheer Swiss dot overlaying pale pink, a voluminous crinoline, a tea-length skirt. The effect was a bit Funny Face, but not so bridal that I wouldn't, as I told everyone at the time, be able to wear it again. Where I would have occasion to wear such a dress again was an open question. But when I was married, surely, this question would resolve itself like so many others.
From the get-go, I knew I wanted Mary to make the dress. I'd been pressing my nose against the glass of her Lower East Side shop for the better part of a decade and relished having an excuse to walk through the door into the tent-striped interior, which smelled strongly of Votivo's Red Currant candle.
Mary was a strong-minded and somewhat intimidating figure whom I quickly grew to revere. Tall and imposing, she was generally black-clad, sporting a feathery twist of hair, red lipstick, and a pair of severely stylized glasses. She said I was the easiest bride she'd ever dealt with; I think I may have just been so young that I was easy to push around. That, and I didn't have an interfering mother. My mom, who came with me to only a couple of the numerous fittings, was out of her element in the fragrant, feminine space and deferred instinctively to the designer. I didn't want to prolong the process. I was uncomfortable with someone lavishing so much of her time on something for my express use. Read More »
January 27, 2011 | by Nana Asfour
Since it opened last September, the Artist's Institute has hosted a number of intriguing short exhibitions, lasting only a day or a weekend. Conceived and run by thirty-five-year-old curator Anthony Huberman, whose résumé includes stints as education director of P. S. 1, curator at Palais de Tokyo, and chief curator at the Contemporary Art Museum St. Louis, the space is quickly becoming a standout in the gallery-dense Lower East Side. Funded by Hunter College, it operates year-round as an affiliate to the school's graduate visual-arts program. Huberman, who conducts a weekly seminar at Hunter related to the Institute, says he wanted to "counter the conveyor-belt problem in art where, before we have time to think about what a show means, it gets swallowed by what's next." Each season, the Institute chooses one artist, the "anchor," around which Huberman and his crew of student "researchers" mount exhibitions and events. The entire fall season was dedicated to the relatively unknown Fluxus artist Robert Filliou, a Frenchman and a friend of George Brecht. He served as inspiration, in the loosest sense, to the shows, and his commands to "unlearn," "disinvent," and "misunderstand" were somewhat adopted as the Institute's dogma.
On a recent Friday night, lured by the promise of a secret performance, a throng of people piled into a small basement on Eldridge Street. By the time I had arrived, the place was densely packed, and in wading through the crowd I noticed that a foamy, doughy material covered the floor. Behind the front desk, an off-white painting by Lutz Bacher read, in bold black lettering, "Have you heard the one about the cow, the Frenchman, and the bottle of Budweiser?" Nearby, a smiling Justin Bieber stared out from a Chinese-like rectangular banner displayed on a coverless ironing board. It was hot and uncomfortable, and I pitied the blush-cheeked baby who was nestled in a BabyBjörn. The performance still hadn't started, but given that the exhibition on view featured artists Liam Gillick, Matt Keegan, and Amy Granat, I was willing to wait, sure that whatever lay ahead would be worthwhile.