September 18, 2012 | by Sadie Stein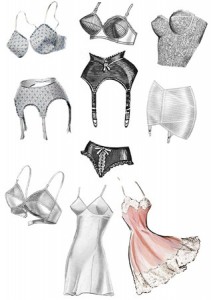 Around the sixth day of my trip to Portugal, I forced myself to accept the fact that I would not be returning home with vast quantities of convent-made lingerie, replete with handwork and bobbin lace. Not, I assure you, for lack of trying. When something doesn't exist, as a hundred thousand visitors to Loch Ness will tell you, finding it makes for very tough work.
Why the obsession, you ask? Well, I will tell you. First, I happened to reread Rebecca just before we left. Do you remember when Mrs. Danvers shows the narrator Rebecca's exquisite nightdress, folded and left waiting for her in a silk case? "Here is her nightdress … how soft and light it is, isn't it? … They were specially made by nuns of St. Claire." This alone would have been enough to fire my imagination: this one garment, after all, serves as a symbol of Rebecca's unattainable perfection: delicate, beautiful, worthy not merely of the most exquisite things but of the work it entails. Somehow both ethereally pure and erotically charged. A sex goddess blessed by Brides of Christ. No wonder the nameless narrator is intimidated.
Then, flipping through D.V., I ran across the passage wherein Mrs. Vreeland describes her London lingerie atelier:
The most beautiful work was done in a Spanish convent in London, and that's where I spent my time. There was a brief period in my life when I spent all my time in convents. I was never not on my way to see the mother superior for the afternoon. "I want it rolled!" I'd say. "I don't want it hemmed, I want it r-r-r-rolled!"
And a conviction grew in my breast: I would return to New York with a wearable piece of the Old World. Read More »