Posts Tagged 'Linda Pastan'
September 2, 2014 | by The Paris Review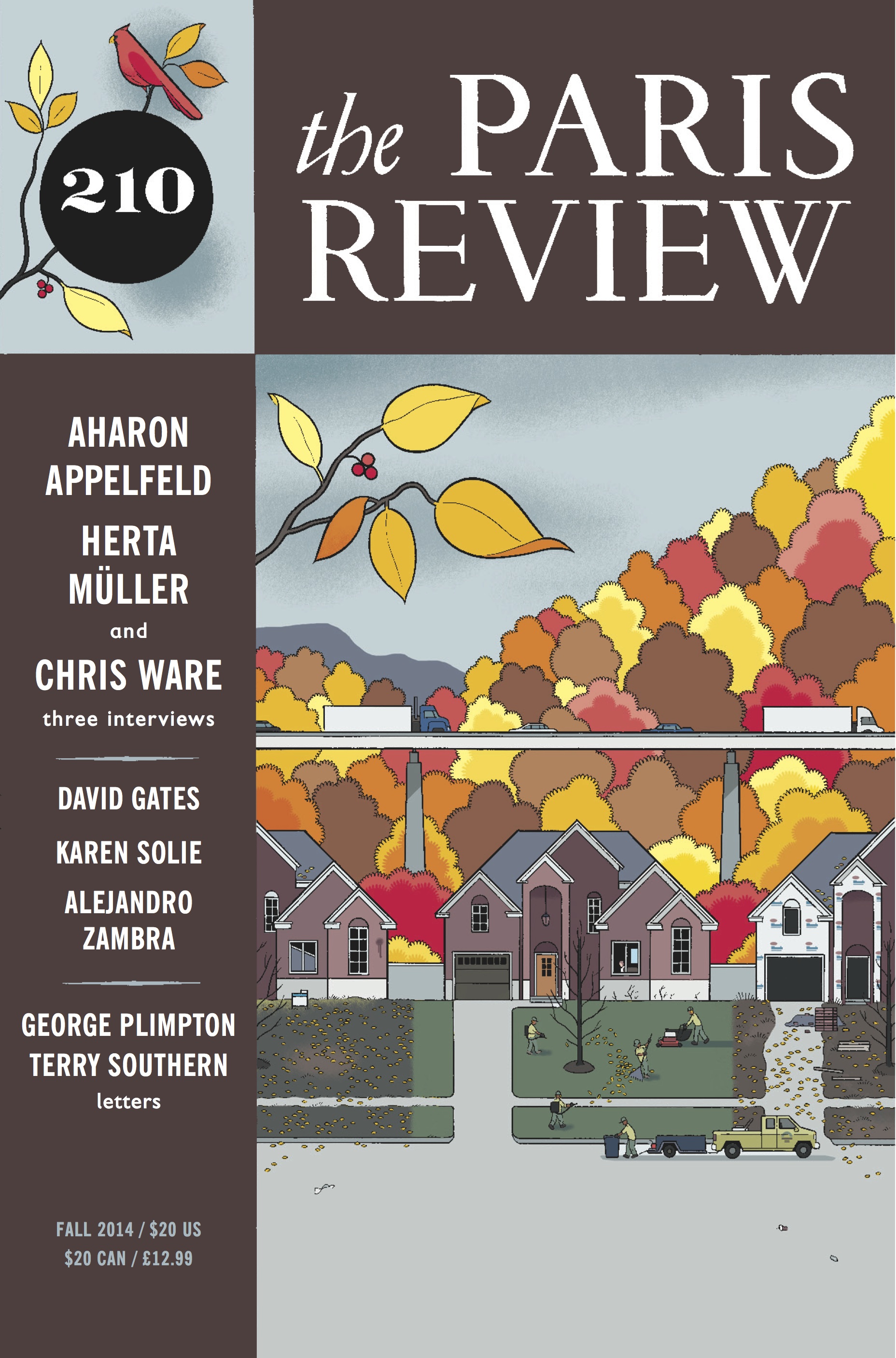 You may recognize the distinctive hand behind our autumnal cover art—that's Chris Ware, who's interviewed in this issue about the Art of Comics:
I just figured there must still be various ways to make art "about" something without making it bad or sentimental. Comics basically seemed a way toward this goal for me … I think cartooning gets at, and re-creates on the page, some sixth sense—of space and of being in a body—in a way no other medium can quite so easily, or at least so naturally.
Then there's our interview with Aharon Appelfeld:
My nights are a nightmare, quite often, but the nightmares are rich—rich in human behavior, rich in feelings, rich in sensations. I nourish myself by those nights. They nourish me.
And in the Art of Fiction No. 225, the Nobel Prize–winner Herta Müller discusses her early fascination with plants ("They knew how to live and I didn't"), life under Ceauşescu, and her approach to the sentence:
I'm not hungry for words, but they have a hunger of their own. They want to consume what I have experienced, and I have to make sure that they do that … The language knows where it has to wind up. I know what I want, but the sentence knows how I'll get there.
There's also an essay by David Searcy; the final installment of Rachel Cusk's novel Outline, illustrated by Samantha Hahn; fiction by David Gates, Atticus Lish, and Alejandro Zambra; and poems by Karen Solie, Stephen Dunn, Maureen M. McLane, Devin Johnston, Ben Lerner, Frederick Seidel, Linda Pastan, and Brenda Shaughnessy.
And finally, a portfolio of letters between George Plimpton and Terry Southern, circa 1957–58, in which Southern writes of this magazine, "[its] very escutcheon has come to be synonymous (to my mind at least) with aesthetic integrity, tough jaunty know-how, etc."
Get yourself some of that integrity and know-how—subscribe now!
November 29, 2012 | by The Paris Review
Our Winter issue takes you north, to an unusual conference in Oslo with John Jeremiah Sullivan, Elif Batuman, Donald Antrim, and filmmaker Joachim Trier. In addition to the proceedings of the first Norwegian-American Literary Festival, this December we bring you new fiction from James Salter, Tim Parks, and Rachel Kushner, poems by Linda Pastan, Ben Lerner, and Yasiin Bey (aka Mos Def), an interview with Susan Howe, and much more.
Here's Joachim Trier on literature and film:
In Norway we have a great tradition of writing literature, whereas cinema … historically this is not our strength. A Norwegian friend of mine interviewed Don DeLillo and asked him, "What do American writers talk about, when they hang out casually?" DeLillo said, "We talk about movies." I felt so proud!
... and Donald Antrim on the fantastical:
When I began writing in earnest, I wrote stories that were modeled on the stories I thought I should write. The stories were about my family, mainly, about my alcoholic mother and about being her son, but they weren't successful. They were dutifully written and they failed ... I went into a depression over this. I didn't know what to do. I got out of the funk eventually, through the fantastic, through making up other worlds.
... and Elif Batuman and John Jeremiah Sullivan on false starts:
BATUMAN

My editor at The New Yorker was like, Why don't you just skip the whole part where you do all the wrong things and just do the right thing.

SULLIVAN

Thank you. Thank you, editor.

BATUMAN

And then he was like, Of course I'm just joking. He wasn't joking!
Neither are we. Subscribe now.