Posts Tagged 'LeBron James'
December 19, 2012 | by Rowan Ricardo Phillips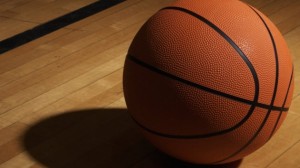 The most common score in basketball is 2-0. It tends to be the point of departure from which thousands upon thousands upon thousands of basketball games subsequently differentiate themselves. Yes, of course the game can break its goose eggs with a three-pointer from behind the line, or the enduring "and one" basket and free throw, or it can begin with one of two free throws made after a personal or technical foul. 1-0, 3-0: as far as basketball scores go these are baroque figures: one bland, one grand. But 2-0. One basket made inside the arc with no response yet from the other team. It's the primordial moment of the game in motion. The opening bell. The icebreaker.
Twenty seconds into last night's game in Madison Square Garden, when Raymond Felton dribbled hard to his left, flattened out from the left elbow of the lane, dropped his shoulder as though heading full-steam on an angle toward the hoop, and then, instead, took a sudden step backward, elevated, and rattled in a fifteen-foot jump shot, the New York Knicks led the Houston Rockets by the pristine score of 2-0. The crowd cheered. I watched and couldn't help but wonder: Would tonight be Felton's night? I have trouble recalling another ballplayer with Felton's knack for being both mercurial and dependable always and at the same time. He can shoot you out of a game you have no business losing. He can shoot you to a victory against the best competition. Yet, as strange as this must now sound, he basically plays the same game every game. He always looks to run the offense. And he rarely turns the ball over (a trait he should get far more credit for). Read More »
July 8, 2010 | by Jim Rutman
Who am I to deny LeBron James a chance to move away?
LeBron James is thinking. And Cleveland is worrying. At twenty-five, the two-time NBA MVP is the most admired, elaborately talented, and imaginative basketball player of this era. He is also, by an unfunny and indisputable margin, the most important Clevelander in memory, if not history. Harvey Pekar, Bob Hope, Paul Newman, and Drew Carey can fight it out for second place. Born in nearby Akron, he was preternaturally composed, having achieved crippling levels of notoriety before turning sixteen, generating the most unrealistic expectations in decades, and calmly proceeding to exceed them all. Ever since he signed a contract extension with the Cleveland Cavaliers four years ago, his fellow Clevelanders have dreaded July 1, 2010. This was the date that, seven years into a triumphant—though still championship-less—career, LeBron became the most coveted free agent in modern team sports.
After a year or two of local consternation, a couple of months of over-thinking, and a full week of orgiastic, self-negating theorizing and maneuvering, the care-worn, hostage-taken people of Northeast Ohio know that LeBron plans to make his decision and announcement during an hour-long, live special on ESPN at nine o'clock this Thursday evening. We know because ESPN, whose band of specialist scrutinizers and hypothesizers have, at various points, overwhelmed Twitter's tube capacity in the last week, "broke" this story about their own network's broadcast, abetting LeBron's unfortunate, hubristic tendencies. His fate will require a dedicated hour of live television.
And since the final game of the shamefully frictionless eastern conference semifinals, when the Boston Celtics overwhelmed the Cavaliers, ESPN has helped ratify what all Clevelanders understand to be a fact: we lose. Most often, dramatically. There is a dazzling catalog of defeat engrained in the cringing lizard brain of every Northeast Ohio sports fan, and ESPN had the soul-puncturing, spirit-killing montage of upper-case humiliations1 cued up. Each anti-triumph represents a picturesque, late-game failure by a once-promising Cleveland pro team. We Clevelanders know them all by sickened heart. Read More »
Annotations
Quickly: The Catch (baseball: by Willie Mays against the Indians in the 1954 World Series); The Drive (football: referring to a late game drive by Denver's John Elway); The Fumble (committed by Ernest Byner of the Browns); The Shot (basketball, courtesy of Michael Jordan); The Date (1964, the last year a Cleveland team won a major championship of any kind, and the year of the Civil Rights Act). There is also a gnawing late-inning collapse in a Game 7 loss to the Florida Marlins in the 1997 World Series that does yet have a fun proper name.