October 18, 2012 | by Nana Asfour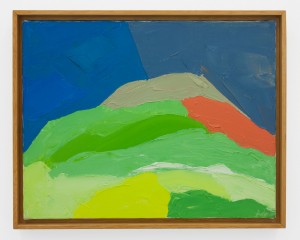 Etel Adnan wasn't there. "It's hard for her to travel these days," Photi told me. Too bad, I thought. She is an iconic Lebanese-American cultural figure and I had hoped to meet her. She was also missing out on the impressive turnout in her honor in New York's Lower East Side.
I had arrived just as the reading had started. The tiny gallery was packed, and I had to squeeze my way through the many bodies. Kaelen Wilson-Goldie, an art critic, was already speaking. I was surprised she was there. She lives in Beirut; I lived there once. So did Etel. Etel and I were both born there, albeit forty-five years apart. And we were both there during the fifteen-year Lebanese Civil War (she, here and there; me, throughout much of its first ten years). Etel wrote the defining novel about that war, in 1978. It's called Sitt Marie Rose and is based on the true story of a woman who was kidnapped and killed by the Christian Phalangists for her support of the Palestinian cause. The Phalangists were one of innumerable militias during the war; they ruled East Beirut, where I, a daughter of two Palestinians, lived. The book was translated into dozens of languages and is regarded as an important contribution to Arab feminism.
Kaelen was holding Etel's new book, Sea and Fog, in her hand. It's a book of prose and poetry that had just been released by Nightboat Books, a small, independent press from Callicoon, New York. It was originally written in English, Etel's first language these days. She penned it in California, where she has been based for decades. (Etel also spends part of the year in Paris.)
At Callicoon Fine Arts, the small, independent gallery where we were standing, Photios Giovanis, the gallery's owner, was showing Etel's paintings. I had never seen Etel's art in person before. Until very recently I didn't even know she was an artist. I only knew her as a writer. As Kaelen spoke, I swiveled left and right, trying to get a glimpse of the works, but there were too many heads in the way. "Whenever I'm hanging out with a group of artists in Lebanon and Etel comes in, everyone is like 'Oh, here's Etel.' She's a very influential figure," Kaelen, said. Kaelen hangs out with Lebanese artists often. She knows the Lebanese art scene very well. She writes about it for publications like Bidoun, Frieze, and Artforum. I don't, in fact, know where Kaelen is from. But she writes great articles about Lebanese art. They almost all have the same theme: Lebanon is an insane, unruly, unstable place—but it has great artists.
September 19, 2012 | by Nathan Deuel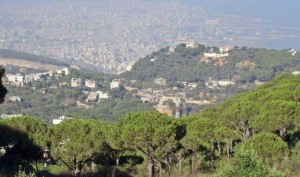 WEDNESDAY
I wake up early to make ice cream for an old friend who is visiting from Riyadh. I blow a fuse in the power converter getting the machine to turn fast enough, but I have a spare fuse and all is well. The visiting friend, Matt, flies in on Saudi Arabian Airlines, which is now a member of SkyTeam, so you can use your miles on Delta or Air France. That night, Matt, my wife, and I stay up late drinking beer and wine and telling stories about the life we shared in Riyadh, where my daughter was born and where Matt still spends weekends DJing parties.
THURSDAY
Matt and I follow the old coast road up to Byblos, where the ticket taker laughs when I say we met in Riyadh. He asks, "You are an American?" When I confirm, he says, "Ahlen Wa Sahlen," which means "welcome." Under a blazing September sun, Matt and I climb ten-thousand-year-old stairs, noting how few guardrails or official paths there are. Then I find a pomegranate tree growing from rocky soil, and we pause to admire the strange fruit hanging from gnarled branches. Hungry, we take a car to a fish restaurant that's been open forty years. Lunch is grilled sea bass, which we eat on a table in the water, so that waves wash up our legs and sometimes splash on the fish, giving it a little more salt. Before we can leave, our waiter insists on my taking a shot. I ask for something brown, and he takes down a bottle of coffee-flavored Patrón.
FRIDAY
I make sure Matt sees this killer little cassette shop, Deep Music, which is just down the block from my apartment. Then we have a final lunch at a nearby restaurant, where they bake their own bread and many, if not all, of the salad greens are local and organic. We each drink a spicy pale ale, brewed by a guy I see around town, and then we share a bowl of merguez sausages drowning in sour syrup, and a seafood frikeh made with an intensely, earth-green grain.