November 22, 2012 | by Edward McPherson
Today marks the fiftieth anniversary of the assassination of John F. Kennedy. With all eyes on Dallas, it seemed fitting to re-run one of our favorite pieces from 2012, an ode to the city and its complicated legacy.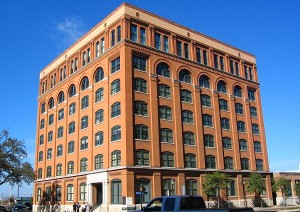 [Read part 1 here.]
Have you ever seen Dallas from a DC-9 at night?

Dallas is a jewel, Dallas is a beautiful sight.

And Dallas is a jungle, but Dallas gives a beautiful light.
—Jimmie Dale Gilmore, from the song "Dallas"
From a Boeing 737 on a sparkling fall day, Dallas looks like a patchwork of mottled greens and browns, the ground more rich and loamy than withered and sere, as if the coming winter were just nature's way of winking. The lakes are murky, the land billiard-table flat, laced with former wagon trails that have now become thoroughfares. Approaching the city, cloned suburban houses sprout in rows that curl and stretch with predetermined whimsy, the pools, tennis courts, and golf courses popping up at neat intervals. Divided expressways thread through the map, the roads laden with cars, pickups, motorcycles, and semis all going, going, going, even on a Sunday, even on a football Sunday.
I am flying into Love Field, an airport that has served Dallas since 1917, when the army named the flying field after First Lieutenant Moss Lee Love, who crashed and died in his Type C Wright pusher biplane four years earlier. Kennedy landed at Love Field at 11:37 A.M. on November 22, 1963. It is a Texas State Historical Site. I am flying into history.
April 6, 2012 | by The Paris Review
"Some poems smack of a gentility one would like in some moods to smack out of them." Even before I read that sentence—about the sainted Elizabeth Bishop!—I knew Maureen McLane was the poetry teacher for me. Her first book of criticism, My Poets, is the survey course of my dreams: a long, loving argument with and about everyone from Chaucer to Gertrude Stein. As befits her subject, McLane is both plainspoken and lyrical, falling at times, as if naturally, into verse as clear as her prose. —Lorin Stein
I remember a college professor commenting that he was never sure Stephen Crane "knew what he was doing" when he dropped all sorts of clues and oddness into his stories. I had the same thought while reading Barbara Comyns's 1959 book, The Vet's Daughter. Does all this strangeness serve a purpose? Does the bizarre ending mean something? Whether the answer is yes or no, I still enjoyed the novel more than anything I've read in months, and I've already ordered the rest of her books. —Sadie Stein
Robert Caro—never disappointing—had a particularly good piece in the April 2 edition of The New Yorker, on John F. Kennedy's assassination but from LBJ's perspective. It's a bizarre and fascinating tale of how history is formed both by monumental events and by intimate details. And that famous photograph of his swearing in—as he stands grim-faced and flanked by Lady Bird and Jackie—will never look the same to me again. —Nicole Rudick
It wasn't the intimidating length or experimental style that had me wondering, Wait, what?, when reading Finnegans Wake. It was my damned curiosity about the "careful teacakes" that Joyce introduces. My foodie heart salivated at the thought—where do I get one of those? Luckily, I stumbled upon A Trifle, a Coddle, a Fry: An Irish Literary Cookbook last weekend and was thrilled to find a recipe for these mysterious treats alongside sixty-six other recipes gathered from food references in the writing of twelve Irish authors, including Beckett and Shaw. Crack it open for a satisfying literary and gastronomic adventure, and let the sating begin. —Elizabeth Nelson
Masha Gessen's The Man Without a Face: The Unlikely Rise of Vladimir Putin has kept me up the last three nights. —L.S.
This week I attended a reading of Dante's Inferno inside Saint John the Divine cathedral, a massive Gothic-revival church near Columbia University. If you missed it, mark the date. It happens annually on Maundy Thursday (which, for those needing to brush up on their Christian calendar, commemorates the day of the Last Supper). It was awesome, in the old-fashioned sense of the word. A wooden pew is really the only place one should learn about Hell. —Allison Bulger