February 1, 2013 | by Matteo Pericoli
A series on what writers from around the world see from their windows.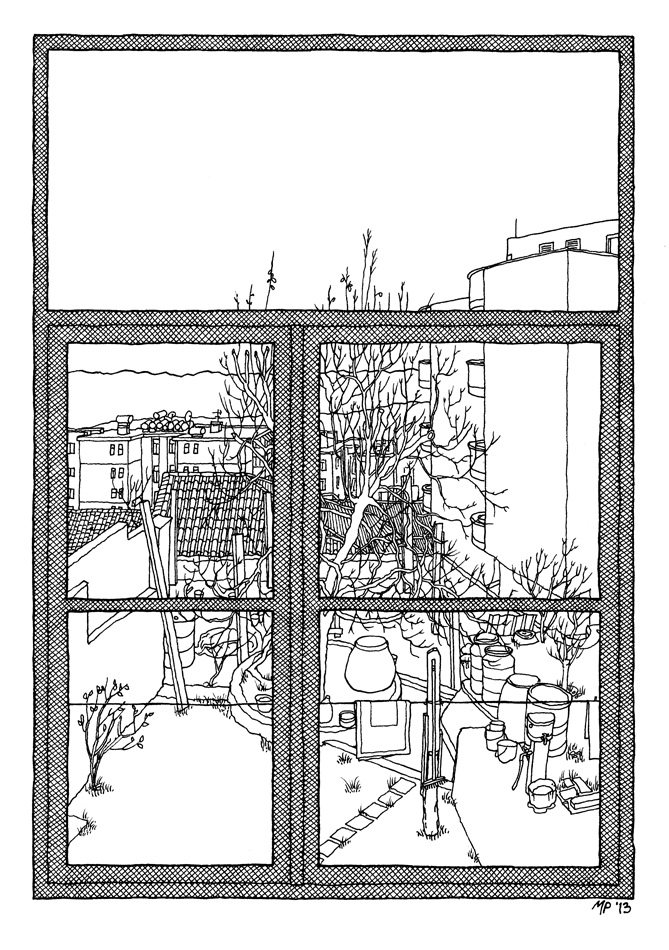 I usually prefer to write in my bedroom at my childhood home in Kruja. Traces of the old living style are in the yard in the front of window: the sheets hung for drying; the terracotta jars, or magrips, sixty-year-old objects once used by my grandfather as olive oil containers and now cut at the throat, transformed as flower vases; the ruined walls which once fenced in the tomato garden; the alembic, or lambik, which served, in the absence of running water, for washing hands after work. But also present is the invisible, the unseen: the erased objects and the missing human beings; the cut plum tree where my sister and I used to climb up during those beautiful summer mornings; the loud voice of my mother when coming back exhausted from her work; the mulberry tree which brought the insects and the good odor of pegmez, the syrup of condensed fruit; the liming thresholds before holidays; my uncles, my cousins, all those portraits and gestures which once populated this yard.
On this inescapable, familiar stage, I can focus on the pelagic depth of a single and bounded situation. In my case creative freedom doesn't necessarily mean hunting for a new landscape. This environment leads me toward something unmistakable, which is a kind of freedom, too. —Luljeta Lleshanaku