December 28, 2012 | by Sophie Pinkham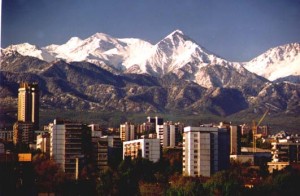 We're out this week, but we're re-posting some of our favorite pieces from 2012 while we're away. We hope you enjoy—and have a happy New Year!
At three in the morning, Almaty's tiny airport is no match for the crackling expanses of sky and snow. As we rise from our seats, the local women shrug on their fur coats, shape shifters assuming animal form. New York hasn't seen much winter lately, and I'm glad of evidence that the seasons still exist—even if I had to come on a business trip to Kazakhstan to find it.
The long smooth road from the airport is lined with luxury-car dealerships and dilapidated beer shops, their signs askew. "Double beer!" one sign cries, sounding drunk. The streets are named after poets, heroes, and Soviet institutions.  (Meet me at the intersection of Goethe and Komintern. Sentences like these are the reward for time spent in the former Soviet Union.) We pass a fluorescent Eiffel Tower standing sentry in front of a shopping center. "What's that?" I ask the driver. "The Eiffel Tower," he answers, matter-of-fact. I'm reminded of a Kyrgyz woman who told me that the Great Wall of China did not exist. Though she herself had visited the wall, she insisted that the section she'd seen was the only real part, built recently to dupe foreigners. "But you can see it from space," I protested. "The Chinese are very clever," she answered. "And those Buddhas in the caves? You think those are a thousand years old? All from the eighties. Trust me."