Posts Tagged 'Kerry Howley'
October 19, 2014 | by Dan Piepenbring
In the twenty-four hours between weigh-ins and the fight, Erik would gain twenty pounds, and he took great pleasure in imagining of what those pounds would consist. The Rio Buffet, he informed me, offered three hundred distinct dishes, seventy varieties of pie, an array of "bars," including a sushi bar, a taco bar, and a stir-fry bar. He knew its small army of friendly spoon-holding servers, its fifty yards of curving black countertop, its unaccountable progression from sausage pizza to cocktail shrimp to scrambled eggs to lentil soup to crab legs to fried fish to sushi to green salad to gravy-slathered pork chops to honeyed ham to flank steak to barbecue ribs to burritos to tacos to waffles to spring rolls to dumplings to sweet-and-sour pork to eggs Benedict to bacon to one giant vat of ketchup to croissants to cubed mango to green-bean salad to seven kinds of lettuce to the gelato-and-pastries bar whose delights are too many to enumerate but which Erik would attempt to enumerate if given the chance.
September 6, 2011 | by Sadie Stein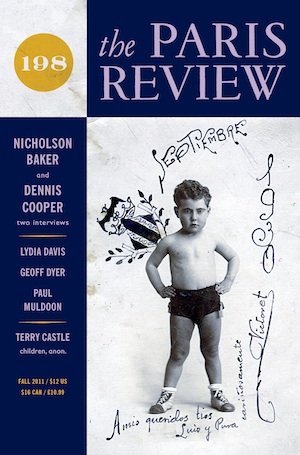 It avails not, neither earthquake nor hurricane nor suspended subway service— The Paris Review comes out on time. It's a doozy, if we say so ourselves, and not to be missed. Subscribe now, or renew, and receive a limited-edition Paris Review café au lait cup. You can sip in style while you enjoy a full year of fiction, poetry, and prose.
In the fall issue:
Nicholson Baker discusses the pleasures of writing smut:
Sexual arousal itself is a kind of drug. It has also turned out to be one of the few plots I can actually handle. If I imagine a man and a woman talking, and I know that later on they're going to be taking some of their clothes off, that pulls me merrily along ... The basic boy-meets-girl plot in which they talk a little bit and then they have some kind of slightly bizarre sex—that plot I can do. Other plots are harder.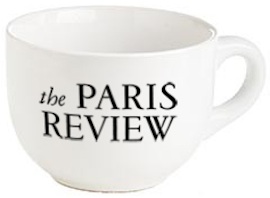 Terry Castle collects strangers' children:
So many children—most of them obnoxious-looking. It's a fact: 99 percent of all photographs ever taken have little brats in them. Mugging, leering, pushing one another. Wielding fearsome Betsy Wetsy 147 dolls. Pouting in pajamas on the floor over unsatisfactory Christmas presents. Prancing egotistically. The sort of kids that Wittgenstein, back when he was a mean, half-demented schoolmaster in the Austrian Alps or wherever it was—long before Cambridge and the Tractatus—would have walloped upside the head and thrown in the snow. How is it, indeed, that I have so many of them? More, even, than Joyce Carol Oates has written novels. And not one, needless to say, did I get for free.
Plus …
Geoff Dyer on Tarkovsky. Lydia Davis on translating Flaubert. The Dennis Cooper interview. Fiction by Roberto Bolaño and newcomer Kerry Howley. Poems by Sharon Olds, Brenda Shaughnessy, Constantine P. Cavafy, Paul Muldoon, Jeff Dolven, Meghan O'Rourke, and Forrest Gander.