December 24, 2013 | by Matthew Erickson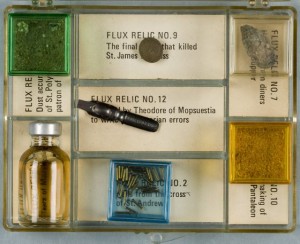 Most people with scholarly inclinations will visit a novelist's literary archive to follow the paper trails, as manifested through gathered correspondence, stray postcards, marked-upon stationery, and scattered drafts. A couple of months before the recent publication of his collected letters, I visited the William Gaddis Papers at Washington University in Saint Louis in search of something near the polar opposite.
I had harbored a minor obsession with the novelist for years, even before reading a single word of his writing, probably due his reputation as a writer who crafted a string of unapologetically dense works while almost entirely avoiding the fickleness of the literary limelight. I had bought a used hardcover of Carpenter's Gothic, one of Gaddis's shorter novels, at a library booksale just after my early-twenties Pynchon obsession had tapered off a bit. That book sat unread on a shelf for a few years until I decided to make the plunge into Gaddis's work after seeing his specter, both his name and the titles of his books, floating through David Markson's great anecdote—and allusion-heavy novels.
More dilettante than scholar, I was on the hunt for certain pieces of the novelist's realia, that archival category of physical, three-dimensional objects rather than the usual rectangular flatland of manuscripts. Gaddis—who wrote "only" five books over the course of a forty-odd-year career (though amounting to around 2,640 pages in total), with each tome encompassing every possible spectrum of American vernacular and obsession; who won a MacArthur Award and two National Book Awards; and who was famous, as Cynthia Ozick once put it, for not being famous enough—had one object in his collection that I had never seen in a library catalog before. I found this particular entry buried deep within the online finding aid for the Gaddis Papers:
"Box 166.2/- : Zebra Skin, (1 item), Stored in oversize; box on order."
After scanning across this listing while doing cursory research for something else, I instantly became obsessed with the idea of the zebra skin in the library. What, exactly, did it look like? How was it stored among Gaddis's papers? Why had he owned it? What was it doing in the special collections of an academic library? Read More »