Posts Tagged 'Karen Solie'
December 4, 2014 | by Jack Livings
Michael Hofmann's first collection of poems, Nights in the Iron Hotel, came in 1984, and in the ensuing thirty years he has translated more than sixty novels from the German and published five more poetry collections, along the way collecting numerous prizes for his work. He is the editor of an anthology, Twentieth-Century German Poetry, and in 2002 published a collection of critical essays, Behind the Lines. (This is far from a comprehensive accounting.) The thirty essays in his new collection, Where Have You Been?, visit a range of poets, novelists, and artists of the last hundred years, including Elizabeth Bishop, Robert Lowell, Thomas Bernhard, Kurt Schwitters, and Frederick Seidel.
Hofmann's essays are intense inquiries: he tunnels deeply, engages profoundly, and whether or not he likes what he's read or seen, his essays ennoble the work under review. There's a sense of humor, even joy, electrifying the enterprise. Of course, his criticism can pulverize, too—Günter Grass and Stefan Zweig are destroyed in Where Have You Been?—but most of Hofmann's selections tend toward the form of one reader grabbing another's sleeve and shouting, Come on now, this way! You've got to see this!
Though Hofmann doesn't keep a computer at home—"usual Luddite setup," he said at one point—this interview was conducted over e-mail. On a couple of occasions, he wrote from a stand-up terminal in a municipal library.
You've written that contemporary American poetry is "a civil war, a banal derby between two awful teams." In Britain, it's "a variety show." These are grim assessments.
Discouraging, isn't it? It's just a fact that there are never very many poets around at any given time. I think poetry is always one or two poets away from extinction anyway. If it's any comfort, it's not a living tradition—it doesn't depend on being passed from hand to hand. It could easily go underground for a couple of decades, or a couple of centuries, and then return. People disappear, or never really existed at all, and then come back—Propertius, Hölderlin, Dickinson, Büchner, Smart. Poetry is much more about remaking or realigning the past than it is about charting the contemporary scene. It's a long game. Read More »
September 2, 2014 | by The Paris Review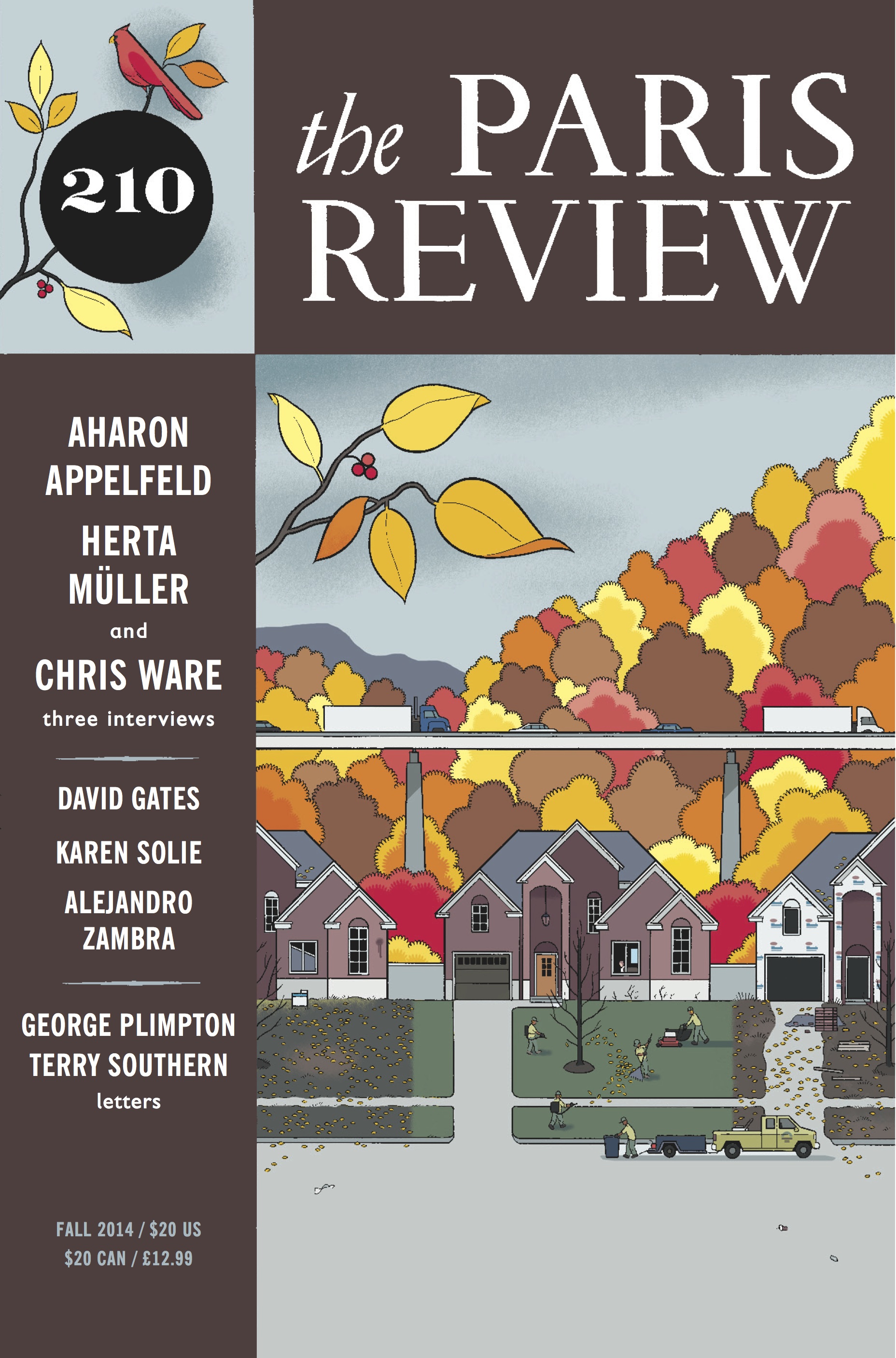 You may recognize the distinctive hand behind our autumnal cover art—that's Chris Ware, who's interviewed in this issue about the Art of Comics:
I just figured there must still be various ways to make art "about" something without making it bad or sentimental. Comics basically seemed a way toward this goal for me … I think cartooning gets at, and re-creates on the page, some sixth sense—of space and of being in a body—in a way no other medium can quite so easily, or at least so naturally.
Then there's our interview with Aharon Appelfeld:
My nights are a nightmare, quite often, but the nightmares are rich—rich in human behavior, rich in feelings, rich in sensations. I nourish myself by those nights. They nourish me.
And in the Art of Fiction No. 225, the Nobel Prize–winner Herta Müller discusses her early fascination with plants ("They knew how to live and I didn't"), life under Ceauşescu, and her approach to the sentence:
I'm not hungry for words, but they have a hunger of their own. They want to consume what I have experienced, and I have to make sure that they do that … The language knows where it has to wind up. I know what I want, but the sentence knows how I'll get there.
There's also an essay by David Searcy; the final installment of Rachel Cusk's novel Outline, illustrated by Samantha Hahn; fiction by David Gates, Atticus Lish, and Alejandro Zambra; and poems by Karen Solie, Stephen Dunn, Maureen M. McLane, Devin Johnston, Ben Lerner, Frederick Seidel, Linda Pastan, and Brenda Shaughnessy.
And finally, a portfolio of letters between George Plimpton and Terry Southern, circa 1957–58, in which Southern writes of this magazine, "[its] very escutcheon has come to be synonymous (to my mind at least) with aesthetic integrity, tough jaunty know-how, etc."
Get yourself some of that integrity and know-how—subscribe now!