Posts Tagged 'Karen DeMasco'
February 2, 2016 | by Sadie Stein
I'm changing. I have the right, don't I? People are changing all the time. I have to think about my future. What's it to you? —The Room
Lisa's right: you're never too old to change. When I think that, a year ago, I had never heard the term armchair cookbook … and now I use it at least once a week! What a drab, colorless existence I'd led!
Armchair cookbook: the words are delightfully contradictory, with their warring suggestions of action and relaxation, that cozy mix of nouns. I first encountered the term in reference to The Barbara Pym Cookbook. It seems clear that the term is an Anglicism, more in use north of the border than in the U.S. But it doesn't refer merely to those books—like the Pym, from which I have never cooked—that combine recipes with straight reading material. At any rate, I use it rather more liberally. Read More »
December 22, 2011 | by Robin Bellinger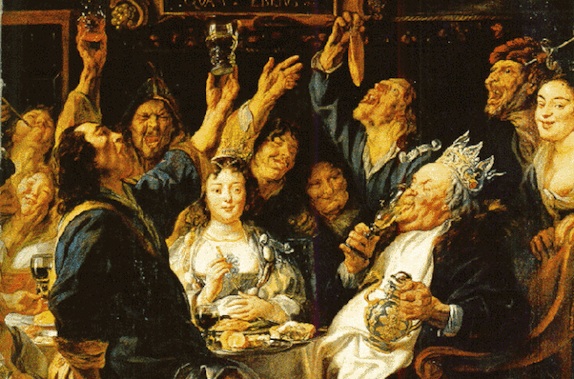 My school's Wassail Party was held in the upper-school cafeteria, at night. For us lower-schoolers, it was thrilling. We were not usually welcome on the big kids' campus, but after the annual candlelight service we were invited to eat miniature candy canes and Pepperidge Farm cookies in their vast, dim, low-ceilinged, linoleum-floored refectory. There was a big bowl of cold lime-sherbert punch, surrounded by elegant plumes of dry-ice smoke and a big bowl of warm, spiced apple juice—our wassail. When we were slightly older, we could join the choir that performed in the candlelight service. "Wassail, wassail, all over the town," we sang, "Our bread it is white, and our ale it is brown!" It felt quietly subversive even to sing the word ale, since we were, in our red jumpers and green neck ribbons, as wholesome as the gingerbread and apple juice served after the concert.
Wassail means "be thou hale," and it's what English farmers traditionally consumed to drink to the health of their apple trees on Christmas Eve or Twelfth Night Eve. The rite itself was also called wassailing and generally called for a bowl of hard cider or apple-spiked ale to be paraded about the orchard. The spirits of the trees were toasted; scraps of booze-soaked toasted bread were tossed into the branches; roots were given a dram. Read More »