Posts Tagged 'Joseph O'Neill'
October 3, 2014 | by Jonathan Lee
The narrator of Joseph O'Neill's new novel, The Dog, decides to move to Dubai. Transitional places make more sense to him than those in which "everything has been built and all that remains is the business of being in buildings." He sees his own life, in the aftermath of a recently disintegrated relationship, as somehow "posthumous" and shameful. And meanwhile his legal training, instead of arming his intellect, merely alerts him to the inadequacies of the language he's forced to use. "Lost in a fantastic vigilance of ambiguity, obscurity, and import," caged in by the feeling that "the very project of making sense [is] being mocked," he drafts endless disclaimers and other corporate documents that he only slenderly understands. His new apartment tower is called The Situation. His preferred spa is called Unique. But even recreation is an exercise in compromise—"there's more than one Unique."
Javier Marías, paraphrasing Faulkner, once told an interviewer that "when you strike a match in a dark wilderness it is not in order to see anything better lighted, but just in order to see how much more darkness there is around." The Dog isn't much interested in bright epiphanies. Instead it shows the extent of one man's ignorance—his helplessness in a foreign world. The evocative sentences that helped to win O'Neill's previous novel, Netherland, the 2009 PEN/ Faulkner Award and a wide readership, are largely absent here. With its deadpan existentialism and playful corporate-speak, The Dog is perhaps closer to a book like Joseph Heller's Something Happened. It is bleakly, unexpectedly funny.
I met O'Neill in Manhattan on an afternoon in mid-September. We talked about the fact that Netherland "very nearly didn't get published at all," the relationship between his work and that of Louis C.K., and why he is "deeply uninterested in the chattiness you get in so many contemporary novels."
It's been mentioned by various reviewers that The Dog is a very different book to Netherland, at least in its tone. What sort of sentences did you find yourself looking for as you sat down to write, and what kinds of sentences did you find yourself striking out?
Generally, I want sentences that are both conscientious and surprising. For me, plot happens most of all at the level of the sentence. As I reader, I want to start a sentence and then be surprised by what happens to it, or intelligently happens. To be surprised by the conscientious movement of emotion and attention over the course of the sentence. I used to write poetry, and I think good poetry does that—captures a movement of intelligence. Still more generally, I want a verbal landscape that's unusual—that I haven't read a million times before, and that isn't easily replicable in other forms. This approach animated the writing of Netherland.
In The Dog, my main character is a theorist—he is disposed toward theorizing and rationalizing, as well as to deep emotion, and is only occasionally given to recollection. To my mind, this makes him a comically urgent character—a man who is constantly caught short by this thoughts, who constantly needs to take a mental leak. That being the case, it wouldn't have made sense to reuse the highly particular, contemplative voice of Netherland.
I'm not interested in writing stuff that's indistinguishable from other stuff. I'm trying to avoid that deathly sense that here's something you've read before, but with different characters, or with one situation replaced with another. I'm also deeply uninterested in the chattiness you get in so many contemporary novels. Read More »
November 8, 2012 | by Sadie Stein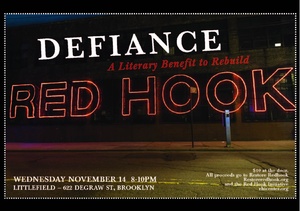 Last week, the waterfront neighborhood of Red Hook, Brooklyn, was one of the areas shattered by superstorm Sandy. On Wednesday, November 14, join host Kurt Andersen; musicians Steve Earle and Stew; novelists Joseph O'Neill, Sam Lipsyte, and Rivka Galchen; nonfiction luminaries Phillip Lopate, Chuck Klosterman, Philip Gourevitch, Meghan O'Rourke, Deborah Baker, Robert Sullivan, and others for Defiance: A Literary Benefit to Rebuild Red Hook. Readings will center on the themes of recovery and rebuilding, drawing on more than two centuries of literature about the historic neighborhood.
The event takes its name from Fort Defiance, the revolutionary-era citadel that once loomed over Red Hook, keeping ferry routes clear for General George Washington's Continental Army. One hundred percent of the proceeds from the evening will be divided between two nonprofit organizations that are leading Red Hook's post-Sandy recovery, Red Hook Initiative and Restore Red Hook. Learn more and buy tickets here.
[tweetbutton]
[facebook_ilike]