Posts Tagged 'Jonathan Galassi'
November 21, 2011 | by The Paris Review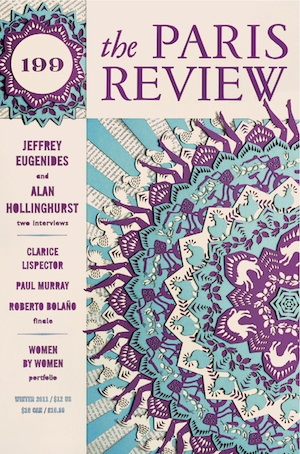 The Paris Review sends you holiday cheer—and our Winter issue! Naughty or nice, it's got something for everyone: a portfolio of women by women, curated by our art editor, Charlotte Strick; fiction by Clarice Lispector, Paul Murray, and Adam Wilson; the English-language debut of  French literary sensation Valérie Mréjen; and the conclusion of Roberto Bolaño's lost novel The Third Reich, with original illustrations by Leanne Shapton.
The Winter issue also contains long-awaited interviews with—
Jeffrey Eugenides:
I tell my students that when you write, you should pretend you're writing the best letter you ever wrote to the smartest friend you have. That way, you'll never dumb things down. You won't have to explain things that don't need explaining. You'll assume an intimacy and a natural shorthand, which is good because readers are smart and don't wish to be condescended to.
and Alan Hollinghurst:
I was very excited by the idea of telling truths that hadn't been told before and breaking down literary categories. Descriptions of gay sexual behavior had until then tended to be restricted to pornography, and the presence of gay lives in fiction had been scant. So I had the great fortune of being given this relatively unexplored territory.
Plus … poems by David Wagoner, Jonathan Galassi, Dorothea Lasky, Ange Mlinko, Gottfried Benn, and Rowan Ricardo Phillips.
February 23, 2011 | by Jonathan Gharraie
"So you know Italian?"
I suddenly experience an obscure and unwelcome pang of solidarity with Christina Aguilera.
"Not very well."
I look down at my shoes. Perhaps they will help.
"Or at all."
But, I want to add, I do know Eugenio Montale. Or, at least, I've read him in translation. This matters because I'm at the handsomely furnished apartment of Professor Riccardo Viale, the Director of the Italian Cultural Institute of New York, where a distinguished crowd of diplomats, writers, and journalists have assembled for a dinner to honor Montale. The occasion is a two-day celebration of the last century's greatest Italian poet and a Nobel Laureate, which itself forms part of a broader program of events devised by the American Academy in Rome to mark the one hundred and fiftieth anniversary of the unification of Italy.
The above lines of dialogue are repeated a number of times over the course of the evening, but nobody seems to mind my genial ignorance. I may be stoutly and unheroically monoglot, but I don't share the cultural introversion of my compatriot Kingsley Amis. I'm here to learn, which is fortunate because the room is full of enthusiasts and newcomers alike. Burrowing into a blond hill of steaming polenta, I chat with a business reporter for Corriere della Sera, the newspaper to which Montale contributed reviews of books and opera productions. Meanwhile, over a glass of wine, the playwright John Guare explains to me how he has only recently come to Montale but is determined to explore his work in more depth.
Fortunately for us, these events are also about translation and, more particularly, about how one of the principle gifts that Italy has bestowed upon the world came to be unwrapped. We have all just attended a busy recital at the nearby Metropolitan Club, where the actor Fausto Lombardi read from a selection of Montale's lyrics, while Farrar, Straus and Giroux publisher Jonathan Galassi and poet Charles Wright delivered their translations, and poet Rosanna Warren introduced us to those of William Arrowsmith. To emphasize his appeal to American poets and readers, three different versions of Montale's most famous poem, "The Eel," were read, but out of a collegial spirit of shared excitement rather than any sense of rivalry.