April 30, 2012 | by Emma Straub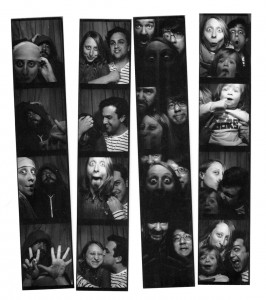 There comes a point on every tour—very early on, after about the third show—when I completely forget that my traveling companions play music. We sit in airports together, we ride in crowded minivans, we play games, we eat both terrible and amazing meals. I think of them as my older siblings, some of whom are grumpy in the morning, others who always want to chat. What happens onstage is so separate from the rest of the experience that I really do forget that they all speak this other language—when I duck into the crowd every night, for just a few minutes here and there during the down times at the merch booth, it's like waking up and realizing that the rest of my family is fluent in Japanese.
When all together, we talk about the merch more than the music. That is not a joke or an exaggeration. Is that because it's easier to talk about T-shirts (a quantifiable object) than the experience of playing music? I don't know. But it was bothering me, this distance, so I decided to ask the band what they enjoy about the act of playing music. The first three responses came to me live, while we were all sitting in our hotel's lobby bar in Chapel Hill, North Carolina. Because they were (sick? warm? perverse? besotted?) individuals, the people in charge of the hotel sound system played nothing but the Magnetic Fields for the entire first day of our stay, and so while we were talking, we were also listening to their albums, played on shuffle. When there was an unusually long pause between songs, Stephin Merritt said to me, "We are listening to the absence of ourselves."
March 27, 2012 | by Emma Straub
I've worked for the band the Magnetic Fields for the past ten years and have sold their merchandise on every tour since they released i, in 2004. Their latest tour, for their new record, Love at the Bottom of the Sea, began last week, and, as is my wont, I've been taking notes. After a warm and fuzzy show in Hudson, New York, the first completely positive experience in Philadelphia in recent memory, and a very quick trip to Minehead, England, for All Tomorrow's Parties, the Magnetic Fields took the Tour at the Bottom of the Sea to Austin, Texas, for their first-ever appearance at South by Southwest, the juggernaut music festival that turns the entire city into a beer-and-taco-stained pair of jeggings. Half the band and crew flew in from New York, and the other half from Boston, meeting up in the Dallas-Fort Worth airport for the puddle jumper to Austin. We shared the plane with several members of the E Street Band, which made Sam Davol (cello) quiver with excitement. When we landed, the steamy Texas air relaxing our synapses, Sam asked E Street violinist Soozie Tyrell for her autograph, and I made a proclamation: in Austin, I was going to find a) Bruce Springsteen or b) Timmy Riggins, my very favorite fictional character on Friday Night Lights, played by heartthrob and Austin resident Taylor Kitsch. I find that wishes are more likely to come true when spoken aloud. Read More »