Posts Tagged 'John Berryman'
November 19, 2012 | by Casey N. Cep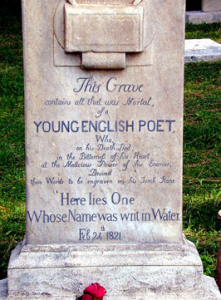 "I used to want to live / to avoid your elegy," Robert Lowell confessed in "For John Berryman."
The death of one poet is an extraordinary occasion for another poet. It is like the day a stonemason dies and another has to carve his headstone. Like a rough ashlar, the elegy sits waiting to be shaped into a memorial for the one who is gone. The death of a poet so great as Jack Gilbert last week pains, but also promises remembrances fitting the one who died.
Gilbert devoted most of his elegies to his wife, Michiko Nogami, but poets have forever elegized one another. We can trace the canon through the poems that poets have written to mourn their own: Henri Cole grieving Elizabeth Bishop; Bishop remembering Robert Lowell; Lowell lamenting the death of John Berryman; Berryman longing for Roethke, Jarrell, Hughes, Plath, Schwartz, and William Carlos Williams; W.H. Auden elegizing Yeats; Shelley bemoaning the loss of Keats; all the way back to Ovid mourning Orpheus.
February 23, 2012 | by Jana Prikryl
The poet is often taken to be a subspecies of the memoirist, stirred to write about her own experiences—the more intense or "authentic," the better. Thanks to the Romantics we believe that inwardness is truth, truth inwardness. This aesthetic can produce great lyric poetry, but it also tends to blanket many contemporary poems with a kind of fungus of the first person. Also of solemnity. A strong mid-century alkali to such mildew is John Berryman's long sequence, The Dream Songs. Its main character is Henry, a concoction of Berryman's own past, of his reading, and of American history. Henry gives utterance to a thousand shades of thought and feeling, of hesitations and inklings—the most intimate stuff of the inner voice—but he does this via verbal theatrics. He is constantly disputing himself, juggling his first, second, and third persons, and the result reads almost like an improvised vaudeville act. Henry's entanglement with language becomes the central drama of the sequence.
In "Dream Song #14," the drama, or antidrama, is Henry's boredom, a thing that is especially tricky to convey. I never tire of the comic-grave, drooping yet metrically perfectionist, repetitious thespian roundelays of this poem. "Ever to confess you're bored / means you have no // Inner Resources" is how Henry quotes his scolding mother. It's a maxim both wearily conceded and richly facetious. If the brunt of some of the best lyric poetry is that we must strip the costumes off our feelings and confess them truly, Henry is strewing his alternative propaganda that—honestly? dishonestly?—he has none just now. No gainful feelings. And the costumes are of greater interest.
This spirit of rebellion, or rapscallionism, that sparks through all 385 of The Dream Songs (and it pains me to leave out the other 384) may feel so vital because Berryman was, among other things, a serious scholar of Shakespeare, well equipped to gauge the tensile strength of a dramatic monologue. In an essay written around the time he published the last of The Dream Songs, Berryman isolates one of the things that makes an otherwise minor play, The Two Gentlemen of Verona, important: "The sudden endowing of a clown—against our expectation—with a voice of his own … A second clown comes onstage alone at II.iii.I and begins to talk to himself, or rather he begins to confide in the audience … Here we attend, for the first time in English comedy, to a definite and irresistible personality, absorbed in its delicious subject to the exclusion of all else; confused, and engaging." The same might be said of Henry, even when he seems most wearily disengaged. Read More »