Posts Tagged 'Joanna Neborsky'
October 3, 2016 | by Evan Kindley & Joanna Neborsky
Evan Kindley and Joanna Neborsky both happen to have new books dealing with questionnaires. Kindley's Questionnaire, part of the Object Lessons series, charts the history of "the form as form" from its inception in the late nineteenth century to its current apotheosis in our data-crazy present. Neborsky's A Proust Questionnaire, meanwhile, revives one of the earliest examples of quiz mania—the questionnaire filled out by a teenaged Marcel Proust in the 1880s—for a new generation of confessors.
Neborsky is an illustrator and animator who has contributed to the New York Times, the Wall Street Journal, The New Yorker, and The Paris Review Daily, and has illustrated books by Félix Fénéon and Daniil Kharms; Kindley is a writer and editor at the Los Angeles Review of Books. Both live in Los Angeles. Earlier this month the two corresponded about questionnaires, using the Proust Questionnaire's famous prompts as a basic framework.
NEBORSKY
I've long wondered—since we met that one time, at that party, next to the pretzel mix in a dark office courtyard—what do you consider the lowest form of misery? And why did you write this book? Read More »
August 27, 2012 | by Charlotte Strick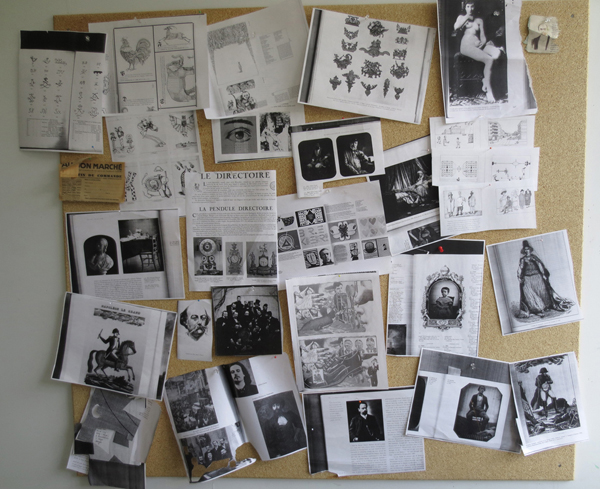 Joanna Neborsky is a book lover's illustrator. She may be as passionate and romantic about books and bookmaking as anyone I've met. She also draws the kind of pictures I've always wanted to make. They are deceptively simple due to the naive charm of each wobbly line, and they owe a great deal to the inspiration of mid-twentieth-century illustration—an obsession she and I both share. A few years ago Joanna and I collaborated on the cover of John Bowe's Americans Talk About Love. A recent art school grad, she was willing to endlessly modify caricatures of the people interviewed for the book. The final package made for a witty and accessible take on social history. I always urge the artists I work with to keep me apprised of new projects, and so a few weeks ago I was tickled to discover a jpeg of Joanna's poster "A Partial Inventory of Gustave Flaubert's Personal Effects, As Catalogued by M. Lemoel on May 20, 1880, Twelve Days after the Writer's Death" in my inbox. We had to share it with readers of The Paris Review, and now I wanted to share a little about how it came to be.