Posts Tagged 'Jimmy Fallon'
March 15, 2012 | by Andrew Palmer
I recently turned thirty, the age by which, according to William James, "the character has set like plaster, and will never soften again." But he wrote that in 1890, before mobile devices and selective serotonin reuptake inhibitors and Lana Del Rey and the fragmentation of the self, and I'm happy to report that my character is as soft as unhandled Play-Doh. For the past year I've slept mostly in well-worn twin beds generously provided by writing colonies, my life a new kind of nomadism made possible by America's patrons of the arts. Every morning I get up at seven, or seven thirty, or eight, or eleven, and record my dreams, or forget them, then make my bed, or not, after which I proceed immediately to take a shower, or start the coffee, or eat breakfast, or go for a walk, then sit down at my desk to begin the day's work, or write e-mails, or stare out the window, or do absolutely anything else. I usually end my day by reading a book, or talking on the phone, or watching basketball highlights on ESPN.com, or wondering why I keep the channel on Jimmy Fallon when every instance of empty enthusiasm makes me loathe him a little more.
William James again: "There is no more miserable human being than one in whom nothing is habitual but indecision, and for whom the lighting of every cigar, the drinking of every cup, the time of rising and going to bed every day, and the beginning of every bit of work, are subjects of express volitional deliberation. Full half the time of such a man goes to the deciding, or regretting, of matters which ought to be so ingrained in him as practically not to exist for his consciousness at all. If there be such daily duties not yet ingrained in any one of my readers, let him begin this very hour to set the matter right." This very hour.

Habits are for squares, is what I've always felt. Read More »
June 17, 2011 | by The Paris Review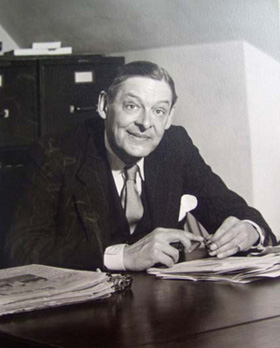 Every summer the good people at Oxford Classics sponsor a reading group in the Reading Room at Bryant Park. I joined them this week to discuss New Grub Street (1891), George Gissing's novel about freelancers who haunt the British Museum. What I remembered—what everyone remembers—is the scary depiction of writer's block. (George Orwell: "To a professional writer it is ... an upsetting and demoralizing book, because it deals, among other things, with that much-dreaded occupational disease, sterility.") What I noticed this time was the love story between Jasper Milvain, a slick young critic on the make, and shy, scholarly Marian Yule, the nicest, toughest, smartest person in the book. —Lorin Stein
Galleys of the two-volume Letters of T. S. Eliot just landed on my desk. And everyone who's anyone is here: Ezra Pound, Lytton Strachey, Edmund Wilson, and Conrad Aiken, but also Wyndham Lewis, Jacques Riviere, and James Joyce. How disarming, though, to see a letter addressed to Bertrand Russell as "Dear Bertie" and signed "Affectionately, Tom." —Nicole Rudick
I had the chance to do a Q & A with Carmela Ciuraru this week, the author of Nom de Plume: A (Secret) History of Pseudonyms. The book is a series of portraits of literary figures throughout history—the Brontes, George Eliot, O. Henry, Georges Simenon—who for one reason or another adopted pseudonyms. It's fascinating—and, incidentally, piqued my interest in an author I hadn't read, Fernando Pessoa. —Sadie Stein

Aaron Sorkin and David Carr talk about cocaine, journalism, and The New York Times. —Thessaly La Force
New Directions Pearls are small books on large topics: Fitzgerald on booze, Garcia Lorca on duende, Borges's Everything and Nothing. The books are about the size of postcard, which means they fit in your back pocket and can also be used as fans or as bookmarks for bigger books. Right now I'm reading Joseph Roth's The Leviathan, a longish short story about the coral merchant Nissen Piczenik and his holiday in Odessa. It's a gem. —Robyn Creswell
Molly Lambert takes on Kanye West over at Grantland and produces this glorious footnote: "Almost all classic West Coast rap is about being the world's worst boyfriend. Too Short and Eazy-E would not be very good boyfriends." —Cody Wiewandt
I reread From the Mixed-up Files of Mrs. Basil E. Frankweiler, which I remembered even less well than Grub Street, but which brought to mind David Grann's piece on Peter Paul Biro. —L. S.
Tom Bissell reviews the video game L. A. Noire. —T. L.
Because you can't watch this too many times and, well, it's Friday. —Peter Conroy