October 22, 2013 | by Albert Mobilio
So just what is the "thingness of the thing" that Heidegger was talking about? The phrase's riddlesome poetry could easily have been penned by John Ashbery, instead of the crusty German phenomenologist. Is Heidegger suggesting that material things possess an essence, an abstract quality that both defines and constitutes, say, a shoe—its shoeness? Perhaps, but Ashbery, in fact, offers a more straightforward assessment of the unseeable stuff that makes stuff stuff in the opening lines of "Grand Galop": "All things seem the mention of themselves." Such are my thoughts as I roam the rooms of Ashbery's Hudson, New York, home … well, only to the degree that the galleries at Loretta Howard, in Chelsea, have been decorated with trompe l'oeil drawings—wainscoting, doorways, mantels—to look like the rooms of the poet's well-appointed nineteenth-century house.
Thoughtfully curated by Loretta Howard Gallery and poets Adam Fitzgerald and Emily Skillings, the show offers a selection of Ashbery's own paintings, prints, collages, bric-a-brac, and furniture; it's all cozily arranged to conjure as much domestic atmosphere as might be had in a gallery space. Kitschy figurines, VHS tapes (Daffy Duck and Jack Benny among them), bawdy toys, and hand-painted plates line the shelves of cabinets and bookcases that could have been lifted whole from Ashbery's parlor. Other items, like the French Provincial chairs and Oriental rugs, have been. They complement a piano drawn on a wall on which are hung several selections of early twentieth-century sheet music ("Mr. and Mrs. Is the Name," "Flirtation Walk"), as if resting on the instrument's music desk.
Alongside such homey items (the cartoons playing on the TV jangle in a familiar way with the filigree wallpaper designs) are pieces by many of the poet's friends and artistic confederates, such as Joan Mitchell, Fairfield Porter, Larry Rivers, Trevor Winkfield, Jess, Alex Katz, Jane Freilicher, and Willem de Kooning. There's a gemütlich vibe, equal parts wry and melancholic, generated by this assemblage of things cultural that ably recalls the mood and manner of Ashbery's writing. To elucidate this point, the curators include wall text featuring apt passages of his verse that treat the world, if not the mind, as a congeries of curios, a kind of Cornell box. Of course, the show includes a few of those; with poems populated by Popeye, Henry Darger, Chopin, Faust, Parmigianino, and a myriad of other, less identifiable references, it's no surprise that Ashbery is a devotee of Cornell's eclectic connoisseurship. Both share an affinity for the metaphysique d'ephemera, an aesthetic that elevates the trivial to the transcendent. Read More »
September 7, 2012 | by The Paris Review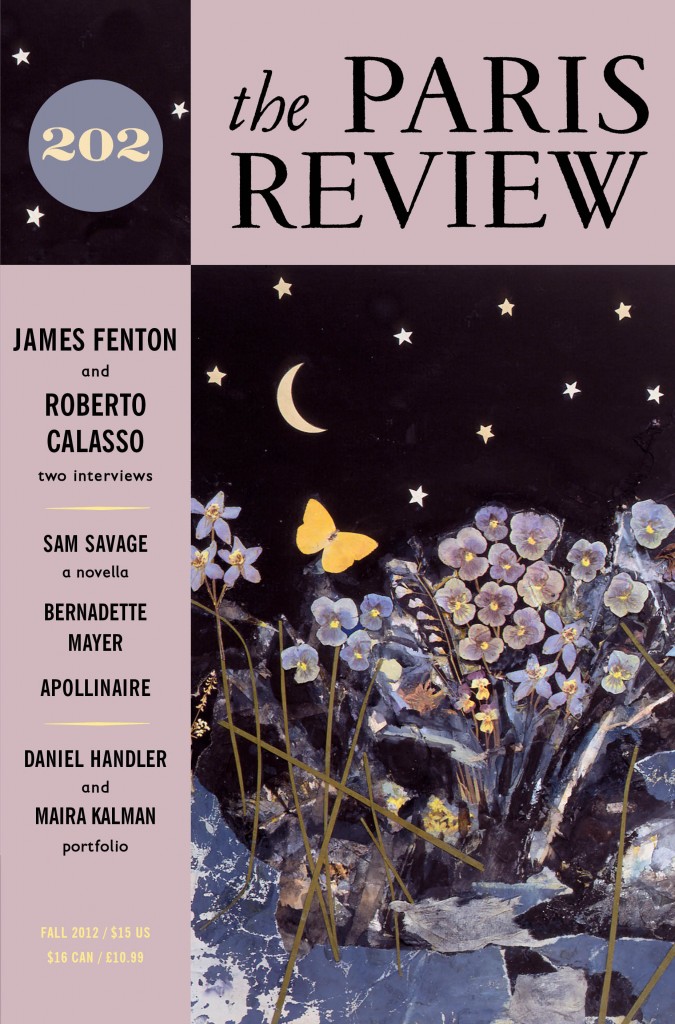 We all hate to see summer end, but don't despair: we bring you our Fall issue by way of consolation! And there's so much to love.
James Fenton on journalism, shrimp farming, interior decoration, gardening, poetry, opera, and more:
What I had got from my teaching experience in the Midwest was a feeling for the enormous pressure on people in the poetry world to conform to an entirely negatively defined notion of poetry. It doesn't rhyme, it doesn't have any rhythm one might detect, and it isn't written for the ear but rather the page. It seemed de-natured. These poets had forgotten the lips and the limbs, the dance, the whole bodily element—that had been banished. The manifesto was a piece of devil-may-care. It was actually anti-Iowa rather than anti-American.
Roberto Calasso on life, film, and publishing—Italian-style:
The publisher after all is considered, especially in Anglo-Saxon countries, a rather eccentric entrepreneur or impresario—a businessman in a very improbable field. But, if he is successful, then he is a good businessman. The author is the successor of the saint, everyone respects the author. So to put the two elements together is highly suspicious in a way, especially in the rather moralistic Protestant countries. In the Latin countries, less so.
Plus! Fiction by Jim Gavin, David Gordon, Ottessa Moshfegh, Peter Orner, and Sam Savage. Poetry by August Kleinzahler, George Seferis, Bernadette Mayer, Jason Zuzga, and Guillaume Apollinaire. A portfolio by Daniel Handler and Maira Kalman, and collages by Jess.
[tweetbutton]
[facebook_ilike]