Posts Tagged 'Jane Bowles'
September 11, 2014 | by Sharon Mesmer
Writing a short introduction about Lynne Tillman isn't easy; her singular and visionary writing covers a great deal of territory. The author of twelve books, she is adept at fiction, short and long essays, cultural critique, and interviews. A sampling of just three of her books conveys the scope of her work: her novel American Genius: A Comedy follows the obsessive inner monologue of a single character for almost three hundred pages; This Is Not It is a compendium of twenty years of witty and risky novellas and short stories, some as short as a paragraph; and Bookstore: The Life and Times of Jeannette Watson and Books & Co. weaves together the voices of Susan Sontag, Fran Lebowitz, Paul Auster, Calvin Trillin, and many others to tell not just the story of the rise and fall of the iconic, well-loved Books & Co. but that of the changing landscape of publishing.
Her new book, What Would Lynne Tillman Do?, is a collection of recent essays—on Andy Warhol's a: A Novel, on the lives and work of Paul and Jane Bowles, and on Edith Wharton and architecture, to name just a few—and interviews with Harry Mathews, Paula Fox, Lebanese-American writer and visual artist Etel Adnan, and German painter Peter Dreher. Each piece, whether essay or interview, is illuminated by Tillman's wit, intellect, and curiosity. When the book was released earlier this year, Jason Diamond of Flavorwire declared 2014 to be "the year of Lynne Tillman."
I spoke with Lynne Tillman at the New School, as part of the university's Summer Writers Colony. Fiction and nonfiction students had spent three days reading What Would Lynne Tillman Do? and the questions I posed reflected their curiosity, as well as my own, regarding the processes and practices that allow her to transition easily between genres. Tillman was eager to answer, and the qualities that characterize her writing shone through in her answers.
In your 2009 essay, "Doing Laps Without a Pool," you write, "I don't want to take a position. Not taking a position is a position that acknowledges the inability to know with absolute surety, that says: Writing is like life, there are many ways of doing it, survival depends on flexibility. Anything can be on the page. What isn't there now?" All those interesting negatives—"not taking a position," "the inability to know," "what isn't there now"—reminded me of Keats's famous letter in which he used the term negative capability. When you begin to build an essay, do you feel as if you're exploring what you don't know, precisely because you don't know? Or do you begin with a firm idea or a mystery that you want to explore more deeply?
I begin nonfiction essays in a similar way to fiction. I have some questions in my mind, things that I'm interested in writing about, and in fiction I find a voice through which to do that. On the other hand, in an essay, I assay some of what I think I know, and then, as I go along, I realize that I don't know what I thought I knew. Read More »
October 22, 2012 | by Christopher Higgs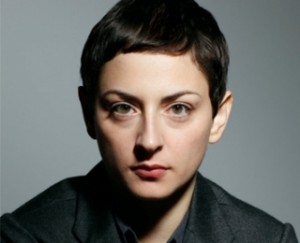 Kate Zambreno's first book, O Fallen Angel, won Chiasmus Press's "Undoing the Novel" First Book Contest, and her second book, Green Girl, was a finalist for the Starcherone Innovative Fiction Prize. So it should come as no surprise that her provocative new work, Heroines, published by Semiotext(e)'s Active Agents imprint next month, challenges easy categorization, this time by poetically swerving in and out of memoir, diary, fiction, literary history, criticism, and theory. With equal parts unabashed pathos and exceptional intelligence, Heroines foregrounds female subjectivity to produce an impressive and original work that examines the suppression of various female modernists in relation to Zambreno's own complicated position as a writer and a wife. It concludes by bringing the problems of the modernists into conversation with the contemporary by offering a timely consideration of the role of the Internet and blogs in creating a community for women writers.
What was it about the modernist wives that first interested you?
I think I came to the wives through an initial discovery of more neglected modernist women writers—Olive Moore, Anna Kavan, Jane Bowles, maybe I'd add Jean Rhys to that list. I was living in London working in a bookshop and not doing much in terms of trying to write a novel, so I pitched to Chad Post at Dalkey that I write an essay on Kavan. And because I had nothing else to do, I sat in the British Library and read everything by her. And started reading all these other experimental women writers, like Elizabeth Smart—not the Mormon abductee, but the one obsessed with the poet George Barker, an obsession she documents in the amazing By Grand Central Station I Sat Down and Wept. Not a modernist, I know, but I sat at the British Library and read the communal notebook she kept with Barker and thought about Vivien(ne)'s hand on "The Waste Land" manuscript. I began to be really interested in ideas of literary collaboration.