Posts Tagged 'Jane and Michael Stern'
November 25, 2015 | by Jane Stern
Our Winter 2015 issue features an interview with Jane and Michael Stern, who have written more than forty books; their Roadfood, first published in 1978 and now in its eighth edition, brought a new fervor and attention to regional American cuisine. To celebrate the new issue and the holiday, Jane Stern reflects here on Thanksgivings past. Happiness abounds. —D. P.
I've always thought that Thanksgiving was my favorite holiday, based solely on the fact that I adore turkey. But if I were to remove turkey from the equation, I would probably realize that this holiday, for me, has been nothing but one hideous thing after another.
Why Thanksgiving is the nexus of all despair is a mystery. But to prove that it is, here's a short list of some of the things I remember. Read More »
January 25, 2013 | by Sadie Stein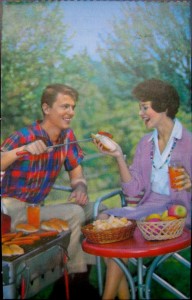 The first time I cooked for him, it was the height of August. The meal was very simple: a salad; a pasta; some peaches I roasted and served with ice cream. Nothing special. And he seemed to like it okay. But the writing was on the wall: this was a man who ate to live, and not the other way round.
For some of us, this is unthinkable. I am always plotting my next meal, mulling over my last, calculating my degree of appetite. Those days when illness robs me of hunger are among my most hopeless. I remember food scenes in movies and books better than others. The city is mentally mapped by cookies and hamburgers; noodle stands are my landmarks; a trip is an opportunity to eat new things, and work up an appetite, and try more. Read More »