Posts Tagged 'James Thompson'
January 1, 2014 | by Ted Scheinman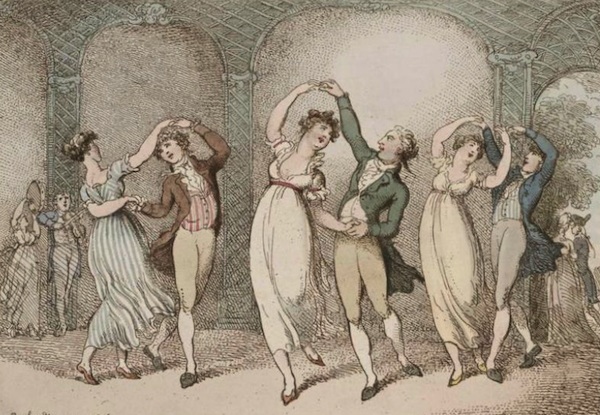 In honor of the new year, we are bringing you some of your favorite posts from the past twelve months. Happy holidays!
This summer, in honor of the Pride and Prejudice bicentennial, the University of North Carolina at Chapel Hill held its first annual Jane Austen Summer Program, described informally as the "Jane Austen summer camp" and inspired in part by the Dickens Project at UC Santa Cruz. Our correspondent kept an illicit diary of his experiences, excerpted below.
Thursday, June 27
4:35 P.M. I have been hoodwinked into wearing many hats at this conference, some of them literal. E-mails from the braintrust inform me that I am to play Mr. Darcy at the Meryton Assembly on Saturday night, to which end I must shave my beard and attend two sessions of Regency dance instruction, all while perfecting my scowl. During convocation, I scan the order of the dance: "Braes of Dornoch"; the "Physical Snob"; "Mr. Beveridge's Maggot." The more boisterous sounding the dance, the more I fear for my newly fitted tights and breeches on generous loan from the Playmakers Repertory.
Professor James Thompson of UNC is our first plenary speaker. Thompson explains the etiology of the program, suggests that next year's gathering will likely focus on Sense and Sensibility, and floats the idea of one day holding a summer conference about "Austen and the Brontës." From the collective intake of breath, he may as well have been talking of 2Pac and Biggie. Thompson also expresses gentle alarm over suspected "crypto-Trollopians" in audience, a joke that lands with shocking force among this mix of academics, various regional representatives of JASNA, garden-variety superfans, Ladies of a Certain Age Wearing Sun Visors, archaic dance enthusiasts, and one very precocious eleven-year-old who takes notes at each of the plenaries. I give thanks that Thompson is a friend and banish anxiety over the tights. Read More »