Posts Tagged 'Jamaica Kincaid'
June 25, 2012 | by Randy Boyagoda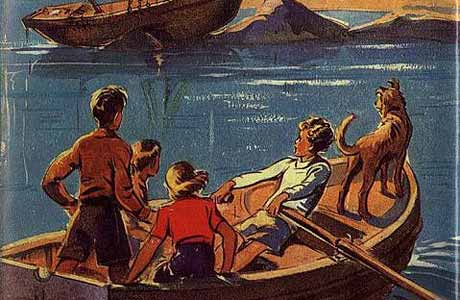 Most mornings this past winter—the Boyagoda household already running late—I discovered my oldest daughter reading at the kitchen table: one boot on, gloves, hat, knapsack, and other boot nowhere to be found. So immersed was she, so indifferent to my pleas and threats, that finally I had to pull the book from her grasping hands just to make her finish dressing for the cold walk to school. This experience has made me more sympathetic to my mother, who once spanked me in a grocery store because I wouldn't stop reading a book. It was by Enid Blyton, the British children's writer who wrote some 400 nursery, fantasy, and adventure series titles that have sold more than six hundred million copies worldwide, mostly in Britain and the former colonies, including Sri Lanka—where as a girl my mother herself first encountered Blyton. I recently bought one of Blyton's books for my own daughter. But before passing it on, I decided to reread it.
The book seemed innocuous enough. As with all of Blyton's adventure stories, it was about boys and girls drawn into mysterious doings while on summer holiday. Bickering but loyal, they best adults who are either distracted and dismissive, or criminals capable of outsmarting everybody but the kids. Working this premise for decades and dozens of stories, Blyton enjoyed great success—at the time of her death, a book club devoted to her work had some 200,000 members in Britain alone. But because that success depended upon such patterned writing, she was also accused by librarians, teachers, and academics of relentlessly dulling the imaginations of her young readers, and of unjustly encouraging those who were reading her from abroad to make identifications that race, geography, history, and politics preemptively denied them. This certainly seems to have been the case for the Nigerian novelist Chimamanda Ngozi Adichie; in a 2006 interview with The Times, she explained that her development as a writer was stunted by her early reading: "When I started to write, I was writing Enid Blyton stories, even though I had never been to England. I didn't think it was possible for people like me to be in books." Similar notions affect the eponymous protagonists of Jamaica Kincaid's novels Lucy and Annie John, who both declare they wish they were named Enid, after their favorite author. For both the young Adichie's and Kincaid's characters, mimicry and the desire for renaming aren't simple expressions of literary admiration; they're also rejections of the children's African and Caribbean worlds, which have been diminished by their very immersion in Blyton's books. The Blyton reading experience likewise impacts a colonial child's maturation in Rohinton Mistry's novel Family Matters, in which an intelligent Indian boy grows up reading her books and from this develops a dismissive attitude towards the foods and places and names that figure in his Bombay life. When self-loathing and alienation begin to build, he stops reading her; later, noticing her books on his shelves, he admits, "I can't bear to even open them. I wonder what it was that so fascinated me. They seem like a waste of time now."
November 11, 2011 | by Lorin Stein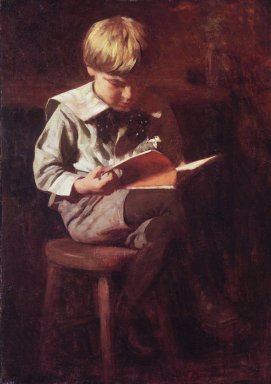 Okay, I have a question about the ideal sort of job for a young writer. If not ideal, then certainly better. I am a gallery manager in Manhattan. It is an exhausting, constantly detail-oriented job that does not pay especially well. Work frustrations and a first novel that is still in progress but progressing despite the less than ideal amount of time I can devote. I am wondering whether I should quit this "career" and become a bartender. I would have more hours to write, and my hands wouldn't be typing for eleven to twelve hours a day. So what jobs do you recommend?
You mention bartending. I've known several writer-bartenders over the years. The job, they tell me, comes with perils of its own. In the good old days, the easiest thing was to get a gig proofreading at night for some giant consultancy or law firm (like the title character of Mary Gaitskill's Veronica). The pay was good, and when you punched out, you punched out. Those jobs are hard to find now (proofreading's the first thing to go), but since you're in New York, it's worth signing up with a temp agency. I temped once, for a business-to-business advertising firm, and on my very first afternoon found myself writing slogans for a revolutionary new water-efficient toilet. At least, I tried. (It was also my last afternoon.)
I have always thought dog walking would be a good job for a writer, if you're the sort of person who thinks while you walk. But perhaps one of our readers will have a better suggestion ... or a position to fill?
I'm enjoying The Way of All Flesh. Can you suggest some novels about social climbing by cultural or racial outsiders?
If Ernest Pontifex counts as a cultural outsider—or a social climber—then who among us is safe from either charge? Not Becky Sharpe, in Vanity Fair, or Lucien de Rubempré, in Lost Illusions. And certainly not Georges Duroy, the gutter-bred antihero of Bel Ami, or David Copperfield or Gatsby or Tim Ripley or—to choose a more recent example—slick Nick Guest in The Line of Beauty. But neither, I suppose, is Lucy, the title character of Jamaica Kincaid's first novel, an Antiguan making her way in New York, or Pronek, the immigrant hero of Aleksandar Hemon's Nowhere Man, lost in Chicago. After all, if you're not from around here, there is a fine line between climbing and getting by. (Is Ellison's Invisible Man a climber?) Leonard Bast tries to better himself, disastrously enough, in Howard's End, and who can blame him? Creepy Jasper Milvain does a much better job in New Grub Street. The black shipbuilder Bob Jones doesn't climb, exactly—but he gets promoted, and all hell breaks loose among his white coworkers, whom he secretly loathes—in Chester Himes's If He Hollers Let Him Go. There is always, of course, Augie March, taking goyish America by storm. And—my own favorite—the reckless, charming Irish hero of Phineas Finn and Phineas Redux, cutting a swathe through Disraeli-era London. Speaking of outsiders who make it. Read More »