Posts Tagged 'Jaipur Literary Festival'
February 7, 2013 | by J. D. Daniels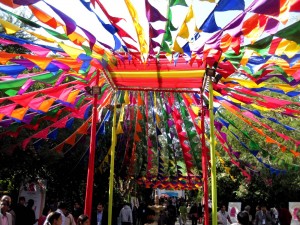 Last year's Jaipur Literature Festival was exciting and boring at the same time—a death threat is exciting, but thirty death threats are boring; as Dostoevsky wrote, "Man is a creature who can get used to anything." Salman Rushdie was scheduled to attend: Islamic groups agitated to deny him a visa, which he does not need in order to enter India, but never mind. It was suggested that instead Rushdie might address the festival via video conference: the government itself advised against this. Hari Kunzru, Jeet Thayil, Amitava Kumar, and Ruchir Joshi read aloud in protest from The Satanic Verses, still banned in India, but, after the gravity of their collective transgression had been brought home to them, they left the festival.
We know what comedy is: life is increased. Think of Rodney Dangerfield addressing the crowd at the end of Caddyshack: "Hey, everybody, we're all gonna get laid!" And we know what tragedy is: isolation increases. I used to think that life was about winning everything, Mike Tyson once said, but now I know that life is about losing everything.
But what is India, with its boundless affirmation of life in general that befouls so many lives in the particular, with its joyous proliferation unto overcrowding, need, and misery? I did my small part, during my brief month there, to maintain those inequalities: Give me your shoes, I know you have other pair, you not need these, give them me, said a man as he tried to pull my sneakers off while a second man tried to pin my arms; and what he said was true, somewhere on the other side of the world I did have another pair of shoes, four shoes and only two feet; all the same, unhand me, my little friend, before I pick you up and throw you like a javelin.
I attended the 2013 JLF. It began in the same way. Read More »
March 6, 2012 | by Amitava Kumar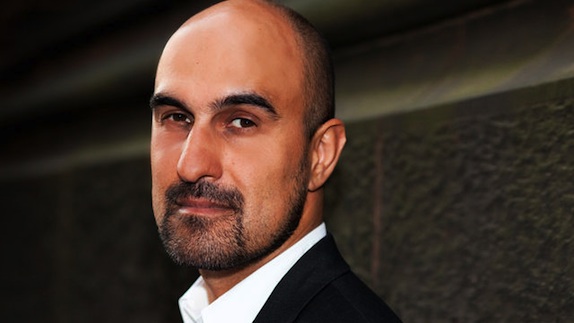 Hari Kunzru's latest novel, Gods Without Men, is being released in the U.S. today. Set in the Mojave Desert, the novel is an echo chamber for stories divided across more than two centuries. The clever symmetries that link the stories reveal the bleached bones of American identity—racial mixing, violence, an unending contest over the politics of meaning and faith. This is Kunzru's fourth novel; his debut, The Impressionist, appeared in 2003 and was followed by Transmission (2004) and My Revolutions (2007). I conducted this interview by e-mail, but I saw Kunzru only a few weeks ago, in late January, at the Jaipur Literature Festival. He had done a public reading from Salman Rushdie's The Satanic Verses , a book banned in India since its publication more than two decades ago. Rushdie had been scheduled to appear at the festival but, because of threats to his life, decided to stay away. When I last saw Kunzru, it was close to midnight and he was making calls to lawyers overseas. He had been informed that he was facing arrest. The next day, on legal advice, Kunzru left the country.
The first time I read about you, you were described as having "a nonspecifically exotic appearance" that marked you "as a potential native of about half the world's nations." How do you usually explain your origins?
I was born in London. Depending on who I'm talking to, and how I feel, I might describe myself simply as a Londoner, British (that one's only crept in since I came to live in New York—to anyone in the UK, it's weirdly meaningless), English, the son of an Indian father and an English mother, Kashmiri Pandit, rootless cosmopolitan … Read More »