Posts Tagged 'Jack Nicholson'
October 24, 2013 | by Nathan Deuel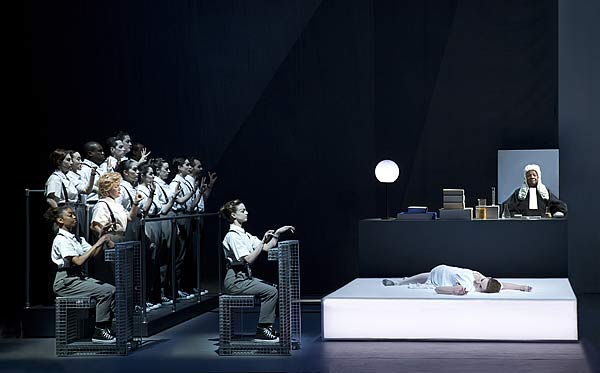 There is something brutal about Philip Glass's opera. The way it stops and starts, the taunting tease of a story, then the way it's anything but narrative. Composed of nine twenty-minute scenes, the whole of Einstein on the Beach—first produced in 1976 and shown in L.A. for the first time this month—is interspersed by five so-called "knee plays," in which two women sit or stand or writhe around on plastic platforms, or search dreamily inside gently moving glass boxes. It's not easy to watch.
"This was a very American month."
It's thirty days since we moved to California after five years in the Middle East and in the darkened pavilion I start memorizing lines. I'm sitting beside one of my oldest friends. I am fearful my glasses will fall from my head. I picture my phone tumbling from my hand—possibly injuring Jack Nicholson, who is seated below—and I think about the car I am borrowing from my mom, parked deep underground, at least until the show is over, a car that is mine until we buy one of our own, or decide to go back.
We started eight levels down, in an auxiliary parking lot under a mall. Space for thousands. Walking to the opera, I'm dazzled by simple things, like the cool hush of an elevator, the absence of tanks, and the clothes people in L.A. wear when they aren't going to a Dodgers game. The lights go down and two women in black suspenders and white shirts begin to murmur about Toyotas and the price and a certain number of coins. I think about our house in Venice, with its brittle wooden walls and a heater the size of a VW, glowing hot under the floorboards. I think about Beirut, and how far we'lve come since a brutal spring. Dancers curl through the smoke, scissoring around on a dimly lit stage. A boy throws paper airplanes from a metal aerie, and a violinist with grey hair scratches across the strings, both as long as it should be, and about as beautiful as it could be. So far.
"Any one asks you please it was trees it it it it it it it it it it is like that." Read More »
December 7, 2011 | by James Franco
The latest Alexander Payne outing, The Descendants, is based on a book, but unlike Breaking Dawn: Part 1, the book it is based on has not amassed an army of followers so ardent that they have their own moniker. The Descendants and Breaking Dawn were released on the same weekend. Undoubtedly one is making a play for an Oscar. Undoubtedly the other will dominate every MTV award category, including best kiss, best dude moment, best male shirtless scene, and whatever else the network that produces the Jersey Shore celebrates. The movies are in many ways very different. But both use sex as a submerged theme while on the surface promoting a wholesome idea of family values; both seem to devalue motherhood; and both deal with characters who are so financially secure that they are almost impossible to identify with. The Descendants is a much better film, but that is because it is not hampered by the precedent of an extremely successful book, a rabid fan base, and a studio that is out for green (so much so that they are willing to split the product into two films, even if it means stretching the material thin to the point of vapidity).
Alexander Payne likes his characters quirky, ugly, and pathetic. Read More »