March 7, 2014 | by Robyn Creswell
The Winter issue of The Paris Review includes Kevin Prufer's poem "How He Loved Them." Prufer is the author of six books of poetry and the editor of several anthologies. His latest collection, Churches, was published this week. He teaches at the University of Houston.
The poem stages a scene of terrible yet familiar violence—a car bomb explodes in front of a courthouse, killing a colonel and his two granddaughters. But the poem is less about the event than the aftermath. The explosion becomes a spectacle for bystanders, who record it on their smartphones. In what ways are poems like our devices—in thrall to spectacle, turning moments into eternities?
Turning moments into eternities was truly at the center of the poem for me—the idea of the afterlife, of divine translation. I imagined that the colonel, who acknowledges he has done terrible things, dies in a moment of inarticulable love for his granddaughters. Of course, he becomes spectacle for us, his death recorded and uploaded to the Internet, where we watch it over and over again. But, in another way, perhaps he has been redeemed, has been, himself, uploaded to a kind of heaven where his love is played out eternally. At least, that's how I like to think about him and the poem—about the moral, spiritual, digital complexities that can be packed into a single moment … a moment we, unknowing, watch play out on our computer screens.
The way this bomb works as "a divine translation" reminds me of another poem of yours, "A Minor Politician," from National Anthem. That poem is a posthumous monologue, delivered from the crypt. The speaker is an honorable pol, though he has served questionable goals. At the end of the poem, he sees God's hand, "like a bomb," reaching through the catacombs to "take my body from the tatters / and lift me through the shadows / to the trees." Are these cases of redemption through violence?
I think the same question is at play, yes. But the poems have very different contexts. When I wrote National Anthem, I was caught in a vortex during which all I could think about was classical—mostly Roman—history. I read about that to the exclusion of most other things. The wars in Iraq and Afghanistan were new and I was living in a small Missouri town very near an Air Force base, and heard echoes of Roman history everywhere. That ancient politician thinks he has been redeemed by God, by God's hand breaking through the ceiling. But really, it was time and forgetfulness that redeemed him—and one of our bombs breaking through his crypt two thousand years later, shedding light on him. Read More »
December 3, 2013 | by Sadie Stein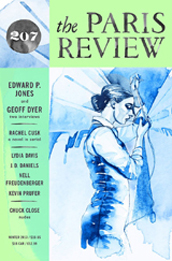 The flight attendant on the cover of 207 does not deceive you: this issue is a ride and a half. For your reading enjoyment we offer:
Geoff Dyer on the art of nonfiction—and why he hates that rubric:
I don't think a reasonable assessment of what I've been up to in the last however many years is possible if one accepts segregation. That refusal is part of what the books are about. I think of all them as, um, what's the word? … Ah, yes, books! I haven't subjected it to scientific analysis, but if you look at the proportion of made-up stuff in the so-called novels versus the proportion of made-up stuff in the others I would expect they're pretty much the same
Edward P. Jones on the art of fiction:
People say, Did you grow up thinking of yourself as this or that, blah blah blah. These middle-class or upper-class kids, maybe three or four times a week they'd have a doctor over, they'd have an engineer over, they'd have a writer over, and they'd get into a conversation with the writer and all of a sudden realize, Oh, I think I want to be a writer. That didn't happen to me. That doesn't happen to the rest of us.
Plus! The first installment of a novel by Rachel Cusk. New fiction from J. D. Daniels, Jenny Offill, Nell Freudenberger, Ottessa Moshfegh, and Lydia Davis, and the winner of the NPR Three-Minute Fiction Contest.
Plus, poems by Kevin Prufer, Susan Stewart, Hilda Hilst, Charlie Smith, Monica Youn, Sylvie Baumgartel, Emily Moore, and Linda Pastan.
And did we mention a portfolio of nudes by Chuck Close?
We realize you have choices when it comes to quarterly reading, and we thank you for choosing The Paris Review.