Posts Tagged 'Isaac Asimov'
December 31, 2012 | by Rex Weiner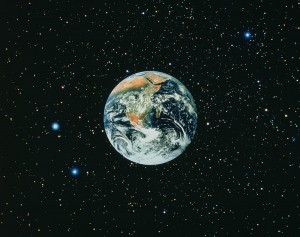 We're out this week, but we're re-posting some of our favorite pieces from 2012 while we're away. We hope you enjoy—and have a happy New Year!
On a brisk December day in 1972, the SS Statendam left New York Harbor with an extraordinary passenger list. Theoretical physicists, science fiction writers, a handful of paying passengers, a reporter from the New York Times, media personalities, and a couple of distinguished literary figures, including Norman Mailer. All were aboard for the ship's destination, Cape Canaveral, to observe Apollo 17, the last manned rocket launch to the moon.
As the skyline receded in the distance, two individuals in black leather jackets and boots tried discreetly to mingle with the other passengers on deck. Eschewing the one thousand dollar passage and without the freebies extended to celebrity guests and credited media, they had simply strolled on board at the last minute. Once the ship cast off they became—in the legal parlance of the sea—stowaways. Stowaways with a mission to rescue Norman Mailer from the clutches of a diabolical cabal of elite space imperialists.
Advance media hype surrounding the Voyage Beyond Apollo, as it was billed, promised stellar seminars, expert panel discussions, and learned presentations by marquee names, including former astronaut Capt. Edgar Mitchell, top NASA rocketeer Wernher von Braun, sci-fi hero Arthur C. Clarke, and Mailer, whose 1970 book, Of a Fire on the Moon, qualified him as an expert on space travel. Read More »
December 5, 2011 | by Sarah Funke Butler
In 1963, a sixteen-year-old San Diego high school student named Bruce McAllister sent a four-question mimeographed survey to 150 well-known authors of literary, commercial, and science fiction. Did they consciously plant symbols in their work? he asked. Who noticed symbols appearing from their subconscious, and who saw them arrive in their text, unbidden, created in the minds of their readers? When this happened, did the authors mind?
McAllister had just published his first story, "The Faces Outside," in both IF magazine and Simon and Schuster's 1964 roundup of the best science fiction of the year. Confident, if not downright cocky, he thought the surveys could settle a conflict with his English teacher by proving that symbols weren't lying beneath the texts they read like buried treasure awaiting discovery.
His project involved substantial labor—this before the Internet, before e-mail—but was not impossible: many authors and their representatives were listed in the Twentieth-Century American Literature series found in the local library. More impressive is that seventy-five writers replied—most of them, in earnest. Sixty-five of those responses survive (McAllister lost ten to "a kleptomaniacal friend"). Answers ranged from the secretarial blow off to a thick packet of single-spaced typescript in reply.
The pages here feature a number of the surveys in facsimile: Jack Kerouac, Ayn Rand, Ralph Ellison, Ray Bradbury, John Updike, Saul Bellow, Norman Mailer. Each responder offers a unique take on the issue itself—symbolism in literature—as well as on handling a sixteen-year-old aspirant approaching writers as masters of their craft.
Even if he approached them en masse, with a form letter.
And failed to follow up with a thank-you note.