August 7, 2014 | by Dan Piepenbring
As a child in suburban Connecticut, I had always considered the purl of the Good Humor truck to be more closely akin to a cricket's chirp or the sound of summer rain: a seasonal gift, wreathed in sweet associations … [but] it is a grave error to assume that ice cream consumption requires hot weather. If that were the case, wouldn't Ben Cohen and Jerry Greenfield have established their first ice cream parlor in Tallahassee instead of Burlington, Vermont, which averages 161 annual days of frost? … Wouldn't John Goddard, an outdoorsman of my acquaintance, have arranged for a thermos of hot chicken soup instead of a half gallon of French vanilla ice cream with raspberry topping to be airdropped to him on the summit of Mount Rainier? And wouldn't the Nobel Prize banquet, held every year in Stockholm on the tenth of December, conclude with crepes Suzette instead of glace Nobel? As the lights dim, a procession of uniformed servitors marches down the grand staircase, each bearing on a silver salver a large cake surrounded by spun sugar. Projecting from the cake is a dome of ice cream. Projecting from the dome is an obelisk of ice cream. Projecting from the obelisk is a flame. When the laureates—who have already consumed the likes of homard en gelée à la crème de choux fleur et au caviar Kalix and ballotine de pintade avex sa garniture de pommes de terre de Laponie with no special fanfare—see what is heading their way, they invariably burst into applause.
—Anne Fadiman, born today in 1953, from her essay "Ice Cream"
July 25, 2013 | by Sadie Stein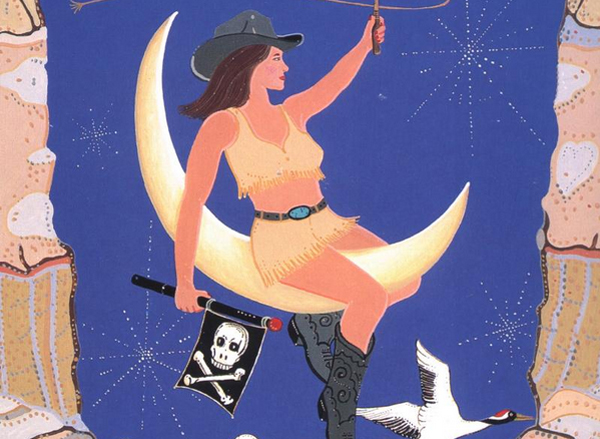 While we enjoyed the book-inspired ice cream flavors the good people at HuffPo Books put together for National Ice Cream Month, it got us pondering a very real question: How is it that, given their sensibilities and aesthetic, Ben & Jerry's has never produced an ice cream inspired by the work of Tom Robbins? While one friend pointed out that perhaps Baskin-Robbins gets dibs, the following immediately suggested themselves:
Even Cowgirls Get the Blueberries
Another Rocky Roadside Attraction
Vanilla Incognito
Skinny Legs and Almond (obviously a fat-free yogurt)
Many thanks to all who helped contribute ideas, although it should be said that no one could come up with a delicious flavor based on Still Life with Woodpecker.