Posts Tagged 'I Love Lucy'
September 17, 2015 | by Chantel Tattoli
The saga of Scary Lucy.
In a no-frills park in Celoron, New York, where Lucille Ball grew up, there stands a four-hundred-pound bronze statue with a puss that's been likened to Darth Vader, the demonic doll Chuckie, and Kim Hunter in her Planet of the Apes makeup. Scary Lucy, as the figure has been dubbed, bears no great resemblance to the comedienne who once hooked America with hennaed poodle bangs and balletic slapstick.
In early April 2015, some six years after Scary Lucy was installed, the local paper ran a story about the village seeking funds to improve or otherwise replace the statue. The A.V. Club picked up the development the next day, and nationwide coverage followed, from the New York Times ("NY Village Wants to Give Its Lucille Ball Statue a Makeover") to Gawker ("Drunk, Leering Lucille Ball Statue Menaces Small Village") to NPR ("In New York, A Sculptor's Got Some S'plaining To Do").
It was funny. But it was more than that. The black magic of statuary is in how the fact, myth, and memory associated with its flesh-and-blood celebrity can get canned inside it. Spark that with controversy, and presto: Lucille Ball's Bronze Age. Read More »
July 20, 2010 | by Mike Sacks
Last summer, Writers Digest Press published And Here's the Kicker a book of interviews I conducted with twenty-one humor writers, including Buck Henry, Bob Odenkirk, Dick Cavett, Harold Ramis, David Sedaris, and Marshall Brickman. Although he's not a writer, I interviewed Ben Glenn II, a TV historian and expert in the history of canned laughter for the book. As I was talking to all of these people whose work produces laughter, it seemed appropriate to include at least one expert in producing fake laughter.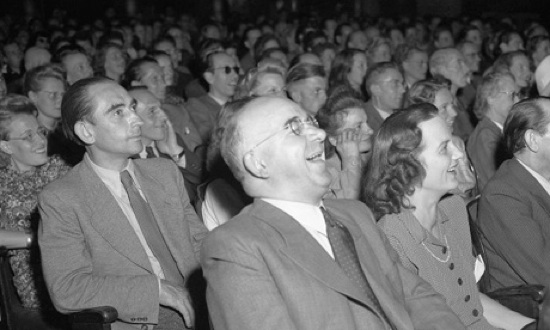 How did canned laughter come about?
The concept actually goes back at least five hundred years. History tells us that there were audience "plants" in the crowds at Shakespearean performances in the 16th century. They spurred on audience reactions, including laughter and cheering—as well as jeers.
How about more recently?
Canned laughter was used to a certain degree in radio, but its first TV appearance was in 1950, on a rather obscure NBC situation comedy, The Hank McCune Show. Remarkably, there are a couple of clips from the show on YouTube. Shortly after the show's debut, there was an article in Variety noting that the show's canned laughter was a new innovation, and that its potential for providing a wide-range of reactions was great. Of course, that eventually came true.
How odd did the laugh track sound to those early TV audiences?
I can only imagine that it seemed odd to viewers, but using a laugh track held many advantages for television producers. The most important was that it made it possible to film exteriors and on location. It gave producers freedom. For example, scenes from Leave It to Beaver were shot outdoors on RKO's—and later Universal's—back lot. With the laugh track, a studio audience was no longer absolutely necessary.
Who invented the canned-laughter machine? Read More »