Posts Tagged 'Hudson River'
March 5, 2012 | by Thomas Beller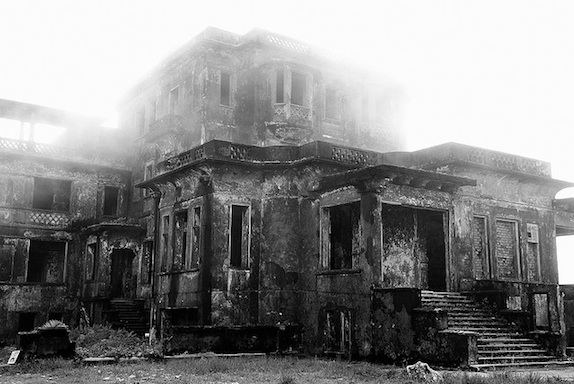 I was at the last show of the night in a movie theater in New Orleans, and I stepped out midway to go to the bathroom. The movie was loud, cacophonous, upsetting—a documentary about Hurricane Katrina and its aftermath. As I peed, I stared absentmindedly at a tile in the wall in front of me.
There was nothing remarkable about this tile, but I felt an involuntary shiver. I was alone in the bathroom, but it occurred to me that the bathroom itself had once been alone and empty—for days, weeks, maybe months during the hurricane and evacuation. It had been frozen in time like the figures in Pompeii but without any bodies to be captured in mid-life, mid-gesture. Instead, what had been captured, what resonated, was a stillness that persisted even now, after the city had ostensibly come back to life.
Cities are not meant to be emptied. Most of them never are. Even in their quietest hour they have a rustling sense of breath. But I had once spent time in another city that had also been emptied: Phnom Penh, which was evacuated under the Khmer Rouge.
Phnom Penh was, from the moment I saw it in 1994, a place that refused comparison. At first I accepted this. I had come for new experiences and I was happy, if often unnerved, to let new experiences prick me with their unfamiliarity. But then I began to feel a certain resistance in me, an effort to corral all the stimulation and make it adhere to a context with which I was familiar. I was trying, as I always did, to see Phnom Penh through the lens of my hometown, New York. Read More »
January 23, 2012 | by Will Hunt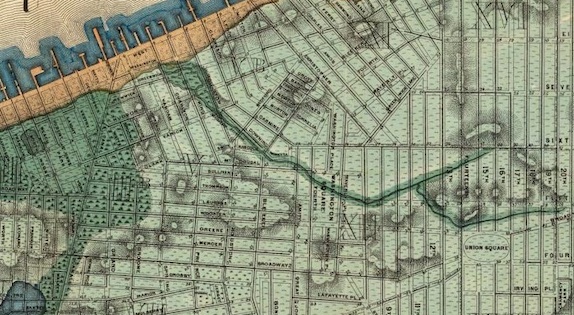 Not long ago, I read an article about archaeologists in Greenland who discovered that plants growing above an ancient Norse ruin possessed slightly different chemistry from plants growing nearby. I was taken with the idea that the energy of a forgotten structure, invisible and buried deep underground, may percolate upwards to leave subtle impressions on the surface. It was this that came to mind recently when I discovered Minetta Brook, a hidden stream that flows beneath the streets of Greenwich Village.
I had learned of the stream from an 1865 map of Manhattan, drawn by an engineer named Egbert Ludovicus Viele, which showed marshlands, rivers, and streams crisscrossing the island beneath an overlay of the city's grid. The map, which is still used today by engineers, showed Minetta Brook beginning as two branches, one originating from a spring at Fifth Avenue and Twentieth Street, the other from a marsh near Sixth Avenue and Seventeenth Street. They met near Twelfth Street, then flowed south down Fifth Avenue, through Washington Square Park, before emptying into the Hudson River at Charlton Street. According to the historian John Fiske, the brook, in the seventeenth century, had been a favorite fishing spot for the Lenape and the Dutch: "a clear swift brook abounding in trout." By the early nineteenth century, it had disappeared from maps, buried beneath the streets, forgotten. Or perhaps not. There were stories floating around about basements of older buildings in the Village with grates in the floor, through which you could see the stream flowing. I wanted to listen to the stream, smell the water, dip my fingers in, maybe even take a small sip. Wouldn't that be something. And so I decided to retrace the path of Minetta Brook, going door-to-door, asking everyone I met about the stream that flowed beneath their building. Read More »