September 20, 2011 | by Chris Flynn
Most dust jackets list only literary accomplishments, but I've always been a fan of offbeat author bios. So I asked some of my favorite writers to describe their early jobs.
Laura van den Berg: A friend and I once spent two summers running an equestrian summer camp. Our qualifications? We knew about horses, my parents lived on a small farm, and my friend's job as an elementary school teacher provided us with an eager clientele. But we had never run a summer camp before, which might explain why we fed all our charges peanut butter sandwiches; saddled up a white pony as old as Gandalf who lived to stomp the toes of small children; failed to require release forms; offered cold, hard cash to the camper who could go the longest without asking another question; and decided our time together should culminate in all the campers spray-painting psychedelic designs on an edgy 1,300-pound Pinto aptly named Art. Miraculously, no one ever got hurt, lawsuits were never filed, and no horses were harmed in the making of this summer camp.
Maile Meloy: After college, I had a summer job in Utah as a river ranger in Desolation Canyon, on the Green River, working for my uncle. It wasn't even really a job—it was a volunteer position that came with a stipend and a tiny trailer to live in, which looked like it was full of hantavirus. The job usually attracted very crazy people, so I think my uncle was using me as a buffer against the lunatics. The river trip down Desolation Canyon takes five days, and the launch is in one of the most remote places in the country, at the end of a long, tire-eating dirt road through the desert. I'd brought a friend along, who also wasn't crazy. We had Bureau of Land Management baseball caps and a list of permits, and our job was to check the boaters onto the river early every morning. We told them not to touch the pictographs on the canyon walls and made sure they had firepans and groovers. Firepans keep ash and cinders out of the sand. A groover is a rectangular ammunition can, repurposed as a toilet. Nothing decomposes in the desert, so everything has to be packed out. Some people say it's called a groover because the steel can left grooves on the backs of your thighs before people started adding toilet seats. A couple of kayakers showed me an empty plastic mayonnaise jar and insisted that they were going to use that. There was an odd intimacy in having such conversations. People invited us down the river, and we declined, so some left us beer and all were gone by 9 A.M. Then the day stretched out, empty and unimaginably hot, with no TV, no phone, no Internet, and a crackling CB radio for emergencies, and I wrote stories. 
July 8, 2011 | by The Paris Review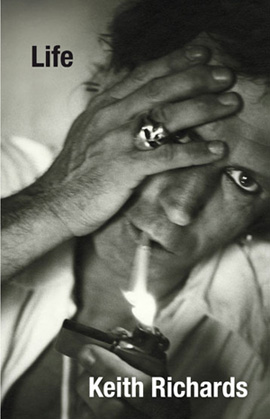 I finally picked up Keith Richards's Life the other week, and it's all I want to read when I have a spare moment. —Thessaly La Force
Over the long weekend, I devoured Bella Pollen's The Summer of the Bear—the story of a family moving to an island in the Hebrides following the death of the father, as well as the unraveling mystery of his life—and found it to be the perfect escape. —Sadie Stein
One of the perks of having a kid is making time for books I otherwise wouldn't make time for, especially the classics. Right now, we're working our way through one of my favorites, Black Beauty. A good excuse to dig out my old Breyer set of Black Beauty, Duchess, Ginger, and Merrylegs. —Nicole Rudick

I spent the holiday with friends in New England, and we played many a round of what I've always called "The Book Game" and Dwight Garner calls "The Paperback Game" and, either way, is about the most entertaining game in existence. (Hint: don't play it with Terry Southern's Candy, which has a seventy-word opening sentence. I speak from experience.) —S. S.
Avi Steinberg on Mike Tyson. —T. L.
Thanks to Maud Newton's nostalgia for the Lone Star state (and my own), I'm making nachos this weekend. —N. R.
If you haven't already, read Jose Antonio Vargas's personal confession of being an undocumented immigrant. "We're not always who you think we are. Some pick your strawberries or care for your children. Some are in high school or college. And some, it turns out, write news articles you might read." —T. L.
Don't let these creepy ads for Children's Hospital scare you away—it really is one of the funniest shows on TV this summer. —Cody Wiewandt
The animal kingdom reacts to the Casey Anthony verdict. —Natalie Jacoby