May 23, 2013 | by Liz Brown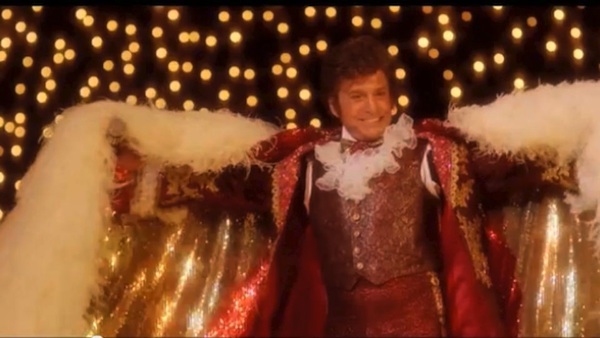 Sometimes there are things you didn't know you wanted to see.
Like Michael Douglas, spangled and rouged, arms out in a white ostrich-trimmed cape, prancing sideways across a Vegas stage. This is barely two seconds of the trailer for Steven Soderbergh's Behind the Candelabra, about the relationship between Liberace and his younger lover, Scott Thorson, but those are two seconds I want to see over and over.
Usually I get cranky and snide about biopics. The last one I saw was Hitchcock. I went to have my prejudices against the genre affirmed, and they were. I kept watching Anthony Hopkins in his fat suit and thinking about his makeup, the boom just outside the frame, the camera rolling back on its track, the contrivance of the whole thing—and not in some provocative, Brechtian sense. I left full of scorn for the labored verisimilitude and regurgitated history—a petty way to go to the movies, but kind of satisfying, too, in the way that being petty can be.
Maybe it's a good film if you weren't aware Alfred Hitchcock had a thing for so-called icy blonds and that he got creepily obsessive when it came to his leading ladies. And if that's not clear from watching Hopkins/Hitchcock skulk around dressing rooms, Jessica Biel/Vera Miles explains it to Scarlett Johansson/Janet Leigh and us in a scene that feels more like a DVD featurette about the "making of" than dialogue between two people. Read More »
September 27, 2012 | by Elisabeth Donnelly
It's difficult to quantify the strange magic of Gregory Crewdson's photography, but here's a stab: his photos, mostly of American towns that could be any dead mill town (the colors too bright, the light too spooky) create such an evocative mood that the viewer becomes part of the story. His work has to the power to linger in the brain long after seeing it: on days when the light filters just so through the trees, when an average, mundane moment takes on the qualities of eerie, ethereal beauty, it's very easy to identify it as a Gregory Crewdson moment, a particular alchemy of the earthbound and the spectral.

The documentary Gregory Crewdson: Brief Encounters is a beautiful and contemplative look at Crewdson's process, focusing on when he was working on Beneath the Roses, a multiyear project that brought film crews of sixty or so people to small towns in the Berkshires of Massachusetts to help produce his large-format photos. The film, a ten-years-in-the-making work directed by Ben Shapiro, is an intimate look inside Crewdson's artistic process. Since that's covered in the documentary, I wanted to talk to Crewdson about one of his big inspirations, the cinema. Crewdson invited me to his studio and home in the Berkshires, a former church hidden behind a fence, where we (along with another writer, Stu Sherman) had a free-ranging conversation starting with the movies and edging over into his work. We started, of course, with Mad Men, which Crewdson calls "the greatest work of sustained art in the past ten years, and I'd include any movie or book or art work, so that shows you what I think of it."
When it comes to Mad Men, do you like the set design and period detail?
I think it's perfect in so many different ways, but it's so beautiful to look at, so exquisitely detailed and rendered. The light's so beautiful and the decor all fits together like a complete, perfect set piece.
It's funny that you love Mad Men so much. I have to admit that when I watch Breaking Bad—or even just seeing stills of characters, like of the wife, Skylar, on the bed—they're very reminiscent to me of your work.
My pictures are very much influenced by movies, but it's weird because now it seems like the opposite happens, and now it's like the movies use my pictures as reference. It's a dialogue or something. I guess it just happens.