Posts Tagged 'Hillary Clinton'
February 12, 2013 | by Kelly McMasters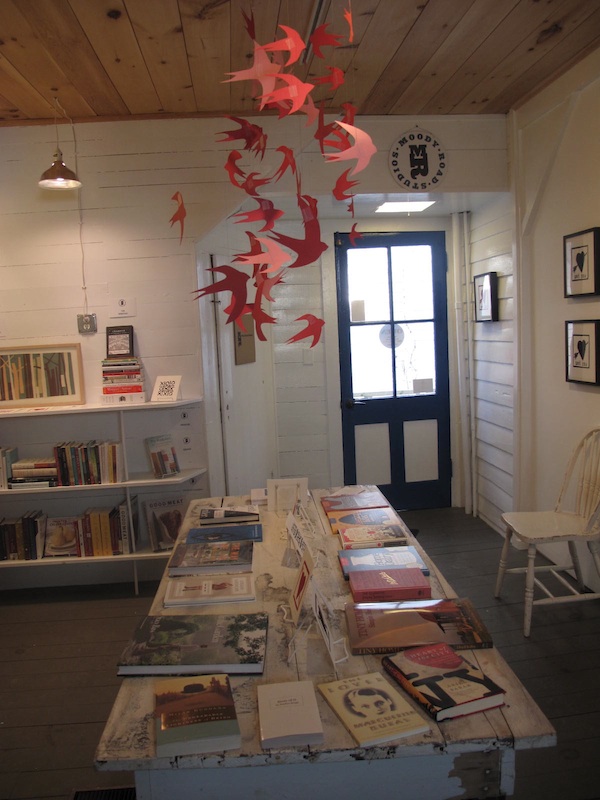 Sitting alone in my tiny bookshop on a cold February morning, I have the sensation that I've conjured a dream into reality. The light is crisp and blue through the door. A flight of red paper swallows—a Valentine homage to Chaucer's poem "The Parliament of Fowls"—hangs from the ceiling, fluttering quietly from the heat whooshing out of the floor grate. The room is small, just shy of two hundred fifty square feet, and an old pickled farm table sits squarely in the middle. The top of the table is covered with books, and the shelves lining two of the room's walls also contain a patchwork of brightly colored spines.
Valentine-themed woodblock prints handmade by my husband line the farm table and a grid of nature-inspired prints hold a wall. We live on an old dairy farm up in northeast Pennsylvania, and instead of cows in our three-bay English barn, we have two etching presses. Mark carves the images into blocks of clear pine, inks them up, and sends them through the press, cranking the smooth silver wheel like a captain on a ship. This is our store together, a kind of celebration of works on paper. We live on Moody Road, and so we call the shop Moody Road Studios.
An artist and a writer, respectively, my husband and I had both been teaching and working in the city for more than a decade, until a little over a year ago. The idea of running a bookshop never entered our consciousness while in New York, mostly because it never could have happened. Space and funding were impossibilities—as one might guess, a writer and an artist in business together don't quite make for a crack commerce force. But here, on Main Street in the small town of Honesdale, everything clicked into place. Read More »
November 15, 2011 | by Andrew Martin
Umberto Eco's novels have been widely admired for their blend of erudite scholarship and satisfying, page-turning plots. His latest book, The Prague Cemetery, continues this tradition by placing a fictional character by the name of Simonini in the midst of a real, historical milieu and giving him a significant, sinister place in nineteenth-century history and beyond. Simonini, an equal-opportunity hater of ethnicities, races, and religions, is a master forger and plays an important role in crafting the "conspiracies" of his time, most importantly the document that becomes The Protocols of the Elders of Zion. I spoke to Eco about the novel, just now being published in the US, on the phone from Italy.
The Prague Cemetery is your sixth novel. Do you find it becomes easier to write a new book at this point in your career? Does it become harder to find new subjects to interest you?
Every time that I write a novel I am convinced for at least two years that it is the last one, because a novel is like a child. It takes two years after its birth. You have to take care of it. It starts walking, and then speaking. In two months I will be eighty years old. Probably I will not write another novel, and so mankind will be safe.
Did you enjoy writing this particular book?
Less than the others. For me, the process of writing usually takes six years. In those years I collect material, I write, I rewrite. I am in a sort of a private world of myself with my characters. I don't know what will happen. I discover it step by step. And I become very sad when the novel is finished because there is no more pleasure, no more surprise. Read More »