Posts Tagged 'Henri Cartier-Bresson'
September 6, 2012 | by Lucy McKeon
One day in late March, I took some pictures of the crowds of protesters in Union Square, newly arrived from Zuccotti Park. The week before, more than seventy protesters had been arrested, and the Union Square encampment evicted in a fashion many Occupiers described as gratuitously violent. Ramarley Graham had been killed about a month before, and the racially-charged practice of stop-and-frisk was asserting itself into mainstream consciousness. Trayvon Martin was now a household name. And since the previous August, one revelation after another had surfaced about the NYPD's secret Muslim surveillance program. So people gathered on March 24.
Tall, glittery women milled about with signs that proclaimed SOCIAL JUSTICE IS FABULOUS!, at one point posing for a picture with veteran progressives whose cardboard sign read PROTESTING IS NOT A CRIME IT IS A RIGHT!. One man held a white square above his head with red Chinese characters and their English translation in black: PROTECT HUMAN RIGHTS. PEACE FREEDOM DEMOCRACY. A LONG WAY TO GO. A young guy pontificated, a lit, dripping, handmade candle his microphone. A "naughty policewoman" balanced on the toes of her ice skates, legs angled and baton in hand, her sign saying something about police wiping their collective ass with the Constitution. Former Police Captain Ray Lewis promoted the documentary Inside Job, while the Hare Krishnas, gathered in the square as usual, sang and danced in full force.
These pictures, I didn't realize at the time, would be lost. Innocent of their fate, I took photographs that day as most people do, with the idea that this was not a test.
Thirty minutes after leaving Union Square, I arrived at the Jewish Museum, where "The Radical Camera: New York's Photo League, 1936–1951" was on view for its last day in New York City. (The exhibit is currently at the Columbus Museum of Art, Ohio, set to travel to San Francisco and West Palm Beach.) And while the sparse grandeur of Museum Mile was in contrast to the teeming crowd of Union Square, the trajectory felt logical. Read More »
May 1, 2012 | by Blake Eskin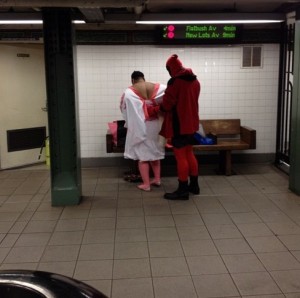 Working with words is how I've made my living, but becoming a photographer has been a longtime fantasy, fed by the vinaigrette smell of the chemistry in the college darkroom, the monographs in the library upstairs, and all the museums and galleries and bookstores I've visited in the decades since. The more amazing work I saw, the more shy I became about picking up a camera, so this fantasy was sublimated into writing about photography, even writing about writing about photography.
The pictures that speak to me most are street photographs. I wanted to be a surreptitious chronicler of urban life, like Henri Cartier-Bresson or Helen Levitt or Elliott Erwitt. Street photography took off with the Leica, a groundbreaking portable camera introduced in 1925 that used the same 35-mm film manufactured for motion pictures. By the time I became aware of street photography, its golden age—its culturally decisive moment, so to speak—was behind us. To practice street photography at the end of the twentieth century seemed like nostalgia.