Posts Tagged 'Harold Humes'
June 24, 2015 | by William Styron
The Paris Review could have been named Weathercock—and other early memories from an editor emeritus.
A new collection of William Styron's nonfiction, My Generation, includes this reminiscence on the origins of The Paris Review; this piece first appeared in 1959, as Styron's introduction to The Best Short Stories from The Paris Review.
Memory is, of course, a traitor, and it is wise not to trust any memoir which lends the impression of total recall. The following account of the founding of The Paris Review comprises my own recollection of the event, highly colored by prejudice, and must not be considered any more the gospel than those frequent narratives of the twenties, which tell you the color of the shoes that Gertrude Stein wore at a certain hour on such and such a day…
The Paris Review was born in Montparnasse in the spring of 1952. It was, as one looks back on it through nostalgia's deceptive haze, an especially warm and lovely and extravagant spring. Even in Paris, springs like that don't come too often. Everything seemed to be in premature leaf and bud, and by the middle of March there was a general great stirring. The pigeons were aloft, wheeling against a sky that stayed blue for days, tomcats prowled stealthily along rooftop balustrades, and by the first of April the girls already were sauntering on the boulevard in scanty cotton dresses, past the Dome and the Rotonde and their vegetating loungers who, two weeks early that year, heliotrope faces turned skyward, were able to begin to shed winter's anemic cast. All sorts of things were afoot—parties, daytime excursions to Saint-Germain-en-Laye, picnics along the banks of the Marne, where, after a lunch of bread and saucissons and Brie and Evian water (the liver was a touch troubled, following a winter sourly closeted with too much wine), you could lie for hours in the grass by the quiet riverside and listen to the birds and the lazy stir and fidget of grasshoppers and understand, finally, that France could be pardoned her most snooty and magisterial pride, mistress as she was of such sweet distracting springs. Read More »
September 30, 2011 | by Deirdre Foley-Mendelssohn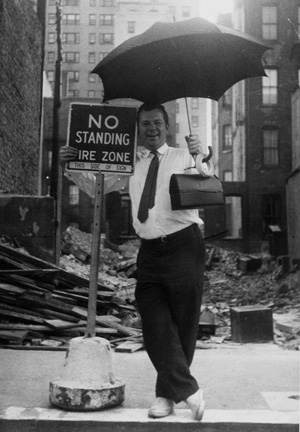 The weekend looks rainy, but Doc is prepared, and you can be, too. See the Paris Review founding editor in action this weekend in his daughter Immy's documentary about his madcap life as a filmmaker, novelist, architect, and Renaissance man. DOC plays at the Anthology Film Archives on Saturday, October 1 at 7:30 P.M. and Sunday, October 2 at 6:00 P.M. and 8:45 P.M. (As a bonus, it will be shown with Don Drasin's Sunday and excerpts from Humes's own unfinished Don Peyote.) We'll be there with t-shirts and other Paris Review goodies.