Posts Tagged 'Hari Kunzru'
May 16, 2013 | by David Bukszpan
When Icelanders talk to Americans about Iceland, sooner or later talk is going to turn to fairies, or hidden people, or elves. And while it seems many Icelanders do truly believe in those things, often you'll get a response like the novelist Sjón gave Leonard Lopate the other day: "If you actually lean on an Icelander, most of us will confess to believing that nature has the power to manifest itself in a form understandable to humans. So the hidden people, you know, we would say, 'Well of course I don't believe that there are actually cities inside our mountains, but it's possible that nature has a way of manifesting itself in a human form to, you know, have an interaction with the humans.'"
Similarly, when Americans talk about Iceland, sooner or later (probably sooner) we're going to start talking about one specific fairy, or hidden person, or elf. And despite my not having any photos or videos to back it up, you'll have to believe me that last week at Scandinavia House, the sprite-like Reykjaviker you're thinking of did indeed manifest herself in a striking, stiff, white-and-purple dress for a ten-minute interaction with book-reading humans on behalf of her longtime friend and collaborator Sjón.
It's a young crowd, trendy, expectant, giddy even, though I'm surprised to see so many empty seats. It turns out Scandinavia House closed their RSVP list weeks earlier, almost immediately after announcing the event, grossly botching the numbers and no doubt needlessly turning away scores of would-be attendees. But it's no matter to those of us here—in fact it makes the evening feel all the more intimate.
It's a coming-out-from-under-the-mountain kind of moment for Sjón himself. Although a well-known writer in Iceland, if Sjón's name rings a bell at all in the States it's been as Björk's frequent lyricist—notably on her Biophilia album, her 2004 Olympic theme song, and Dancer in the Dark, her Lars von Trier film. Things have changed for him in a hurry though, as Farrar, Straus & Giroux sent the poet/novelist on a U.S. tour (Seattle, Portland, Santa Barbara, San Francisco, and New York) to promote the three simultaneously released books: the full-length From the Mouth of the Whale and the novellas The Blue Fox and The Whispering Muse. Move over Blue Lagoon, Americans are about to have a new second-favorite Iceland reference.
The five-city, three-book, one-author tour culminates in the event at Scandinavia House, where Björk treats the assembled to the kind of intimate, I-knew-him-when introduction usually reserved for siblings at wedding parties. Then again, it quickly becomes clear that there's a sort of brother-sister camaraderie between the two. Read More »
March 6, 2012 | by Amitava Kumar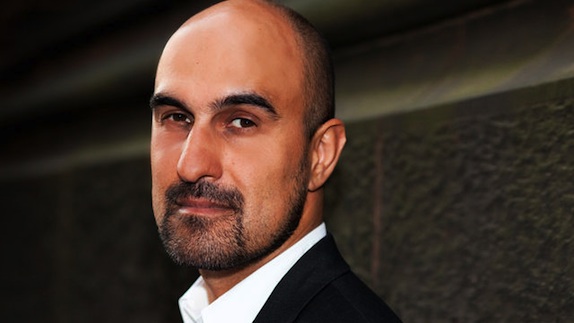 Hari Kunzru's latest novel, Gods Without Men, is being released in the U.S. today. Set in the Mojave Desert, the novel is an echo chamber for stories divided across more than two centuries. The clever symmetries that link the stories reveal the bleached bones of American identity—racial mixing, violence, an unending contest over the politics of meaning and faith. This is Kunzru's fourth novel; his debut, The Impressionist, appeared in 2003 and was followed by Transmission (2004) and My Revolutions (2007). I conducted this interview by e-mail, but I saw Kunzru only a few weeks ago, in late January, at the Jaipur Literature Festival. He had done a public reading from Salman Rushdie's The Satanic Verses , a book banned in India since its publication more than two decades ago. Rushdie had been scheduled to appear at the festival but, because of threats to his life, decided to stay away. When I last saw Kunzru, it was close to midnight and he was making calls to lawyers overseas. He had been informed that he was facing arrest. The next day, on legal advice, Kunzru left the country.
The first time I read about you, you were described as having "a nonspecifically exotic appearance" that marked you "as a potential native of about half the world's nations." How do you usually explain your origins?
I was born in London. Depending on who I'm talking to, and how I feel, I might describe myself simply as a Londoner, British (that one's only crept in since I came to live in New York—to anyone in the UK, it's weirdly meaningless), English, the son of an Indian father and an English mother, Kashmiri Pandit, rootless cosmopolitan … Read More »