December 2, 2014 | by Dan Piepenbring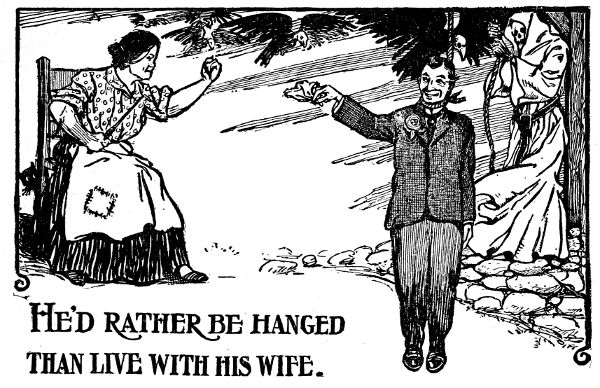 From Twenty Years a Detective in the Wickedest City in the World, a 1908 book—putatively nonfiction—by Clifton R. Wooldridge, "the Incorruptible Sherlock Holmes of America."
In his agony [Devel] confessed that the only reason he confessed the murder was that he desired to get hanged, and that he preferred hanging to life with his wife. […]
"I desired to be hung," said Devel, mournfully. "Life is not worth the living, and with my wife it is worse than death. If I had been hanged no other man would marry my wife, and I would save them from my fate. Many times have I planned to kill myself to escape her. That is sin, and I lack the bravery to kill myself, besides. If they will not hang me I must continue to live with my wife."
Devel states, among other things, that these are the chief grievances against married life in general, and his wife in particular:
She was slender, and became fat and strong.
She was beautiful, and became ugly and coarse.
She was tender, and grew hard.
She was loving, and grew virulent.
She grew whiskers on her chin.
She called him "pig."
She wore untidy clothes, and her hair was unkempt.
She refused to give him beer.
Her breath smelled of onions and of garlic.
She threw hot soup upon him.
She continually upbraided him because there were no children.
She scolded him in the presence of neighbors.
She refused to permit him to bring his friends home.
She came into his store and scolded him.
She accused him of infidelity.
She disturbed him when he slept in the garden on Sundays.
She made him cook his own dinners.
She spilled his beer when he drank quietly with friends.
She told tales about him among the neighbors, and injured his business.
She served his sausages and his soup cold, and sometimes did not have his meals for him when he came home.
She did not make the beds nor clean the house.
She took cards out of his skat deck.
She talked continually, and scolded him for everything or nothing.
She opened the windows when he closed them, and closed them when he opened them.
She poured water into his shoes while he slept.
She cut off his dachshund's tail.
These things, he said, made him prefer to be hanged to living with her.
August 14, 2014 | by Dan Piepenbring
From "Hanging: From a Business Point of View," a chapter in James Berry's My Experiences as an Executioner (1892). Berry was a renowned hangman in England from 1884 to 1891; he refined the "long drop" method pioneered by William Marwood, and once famously failed to execute John Babbacombe Lee, "The Man They Couldn't Hang," when the scaffold's trap door repeatedly stuck.
I am not ashamed of my calling, because I consider that if it is right for men to be executed (which I believe it is, in murder cases) it is right that the office of executioner should be held respectable. Therefore, I look at hanging from a business point of view.
When I first took up the work … I made application on a regular printed form, which gave the terms and left no opening for mistake or misunderstanding … I still use this circular when a sheriff from whom I have had no previous commission writes for terms. The travelling expenses are understood to include second-class railway fare from Bradford to the place of execution and back, and cab fare from railway station to gaol. If I am not lodged in the gaol, hotel expenses are also allowed. Read More »