Posts Tagged 'Guy Laramée'
June 8, 2015 | by Dan Piepenbring
The French Canadian artist Guy Laramée, whom we've featured before on the Daily, has a new series of book sculptures, "Onde Elles Moran"—"Where They Live." Laramée spent nine months on the series, which features Brazilian birds painted on secondhand, linen-bound Clássicos Jackson—something akin to our Great Books of the Western World, those generically handsome tomes seemingly designed to collect dust on attractive shelves—with the birds' native habitats carved into the pages.
Laramée has become known for his book sculptures, which he began about five years ago; he regards books as raw material in need of processing, and he's proven unafraid to go at them with a chain saw. But he can also approach the medium with a miniaturist's attention to detail, as demonstrated in the topography of the landscapes here; he uses oil, inks, pigments and dry pastels, crayon, fixative, and beeswax. "It all started in a sand blaster cabinet," he said in an interview with ANOBIUM about the sculptures' genesis:
I put a book in there—stupid idea—and there it was. Within seconds I saw the landscape, the drama, Borges, the little people who lived in books, everything … I never really totally forget that these are books, that my raw material is not wood, not even paper, but a book. At times I'm lost in the project, in the landscape. But a book is a book, structurally. The pages are not glued, so you have to respect the structure, from the binding of each pages to the cover, otherwise pages will fly away when you release the clamps.
 You can see more of his work at This Is Colossal, JHB Gallery, and on his Web site. Read More »
August 17, 2012 | by Sadie Stein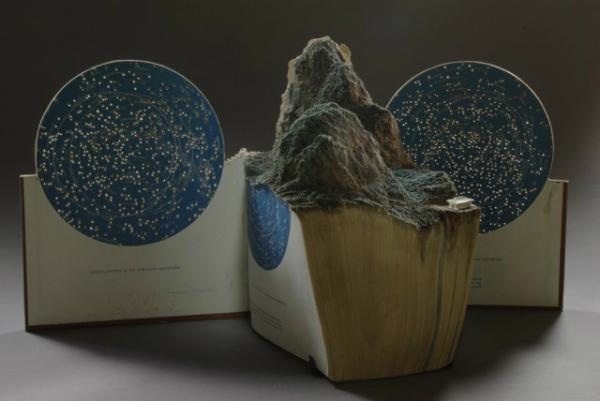 A literary moonscape by Guy Laramée.
More amazing book art: a visit to Quebec's Garden of Decaying Books.
"A hundred and twenty five years ago, Oscar Wilde edited a fashion magazine, his first and only office job. We have yet to learn from the experience." LARB on Wilde's day job.
For the first four decades of competition, the Olympics awarded official medals for painting, sculpture, architecture, literature and music, alongside those for the athletic competitions.
If you're in Boston this weekend, enjoy the Dog Day Poetry Marathon, featuring Dorothea Lasky, Jim Behrle, and Eileen Myles (among many others).
"As he told her that he loved her she gazed into his eyes, wondering, as she noted the infestation of eyelash mites, the tiny deodicids burrowing into his follicles to eat the greasy sebum therein, each female laying up to 25 eggs in a single follicle, causing inflammation, whether the eyes are truly the windows of the soul; and, if so, his soul needed regrouting." Cathy Bryant of Manchester, England, has won the 2012 Bulwer-Lytton Fiction Contest, which celebrates the worst in writing.
[tweetbutton]
[facebook_ilike]