October 15, 2014 | by Dan Piepenbring
You may well have seen that our new Fall issue features a loping and very funny editorial exchange between George Plimpton and Terry Southern, one that captures both men at the height of their wit—and especially Southern's, shall we say, distinctive style on the page. ("Yes, it's true I've a rather crackerjack interview with good Hank Yonge tucked away in the old jock-strap, and naturally I'm eager to see it get the sort of dignified dissemination its merit does warrant," a not-atypical sentence goes.)
The Review has published a lot of Southern over the years. Issue 138, from Spring 1996, has a particularly rich cache of what the man himself might call "Quality Lit," not just by Southern but about him. It is, essentially, a Terry Southern memorial: when Southern died in October 1995, Plimpton and the staff collected some of his unpublished work and a series of remembrances in his honor. Among the tribute are four pages from an unfinished screenplay, which we've reproduced below. It's just enough to make you wish he'd seen the thing through, and just enough to make you wonder what the hell the movie would've actually been about. Skeet shooting? Drug-addled romantics? The French?
As a salute to Southern, who died nineteen years ago this month, for the rest of October we're offering copies of Issue 138 for only fifteen dollars—fifty percent off the regular price. The issue features an essay by Southern, an interview with him, and remembrances by William Styron, George Plimpton, and Henry Allen. There's also of course a glut of material having nothing to do with Southern whatsoever, if that's more your thing: fiction by Junot Diaz and Milan Kundera, interviews with Richard Price and Billy Wilder, poetry galore, et cetera, et cetera. Get a move on!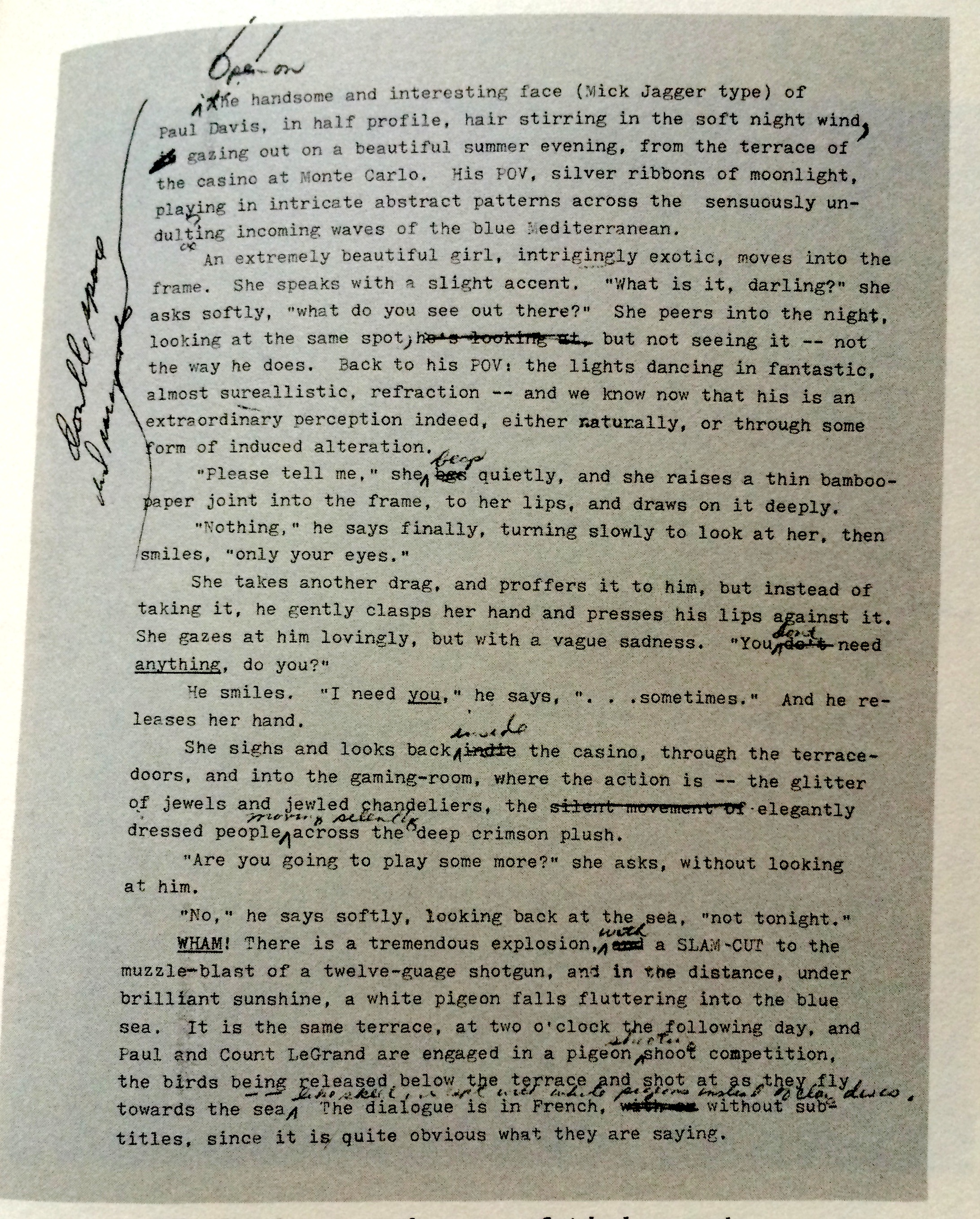 Read More »
August 2, 2010 | by Avi Steinberg
A bar mitzvah outing—at a West Bank shooting range.
It's not easy to get directions over the phone from someone who works at a shooting range. I was pretty sure Eran had said that Caliber-3 was accessible by public bus, but it was hard to hear him over the gunfire. So I took the bus into the West Bank, through various IDF checkpoints, down highway 60 with its anti-sniper barriers and razor wire, past the giant, snaking "Wall of Separation," to a settler outpost, a pleasant little heavily-armed suburb.
"You are not in the right place," Eran is now telling me on my cell. "You are in the wrong place."
The right place, it turns out, is a forty-five minute walk to a remote hill. I embark on a cautious solo West Bank hike along a road where Hamas militants once tried to kidnap a friend of mine. Empty cans of power drinks labeled in Arabic line the road—when these turn into empty cans of power drinks labeled in Hebrew, I know I am close.
Caliber-3 is located on a dusty slope of a dusty hill, between the Jewish settlement of Migdal Oz and the Arab town of Bayt Fajar. It is part of a settler industrial park built on land that nearby Palestinian villages claim as their own. Each company housed in the industrial park seems to play a role in the Jewish settlement enterprise: contractors, a land development corporation, a real estate management agency, a shady outfit that calls itself "Google Ranking Experts," and an even shadier outfit that calls itself "The Society for the Interpretation of the Talmud."
I am here for a bar mitzvah outing. Since the party bus is late, I join three men sitting at a picnic table. They identify themselves as "French businessmen who live and work in China." Why are they on the West Bank, at this shooting range? They are training for urban combat, they tell me. "We need it for work," one of them explains.
Somehow this segues into an impassioned monologue. The lead Frenchman demands to know why the Americans get away with killing twenty-seven Iraqi civilians a day while the Israelis dispatch a few pirates and are roundly condemned. It's an outrage! Under the table, I feel a foot cozy up to mine. I try to ignore this. The man, now pounding on the picnic table, continues to decry the hypocrisy of the international community; at the same time, he grows increasingly familiar with me under the table. He is now gently massaging the top of his foot over the top of my foot.
According to its website, Caliber-3 "works in close cooperation with the IDF in the field of counter-terrorism" and has "set up security installations in order to train both professionals and laymen in Israel as well as in Africa, Asia and Central America." They also offer paintball to visitors who are willing to wear the required external jockstrap. Again, from its website, "[we] simulate urban combat using paintball. This is real fun for families and tourists and great entertainment for bar mitzvahs."
At long last, the bar mitzvah bus arrives. It is a large group of men, women and children dressed for a day of golfing. Chinos, polo shirts, belted plaid shorts. Many are also wearing official bar mitzvah apparel: navy blue baseball caps and tote bags emblazoned with a giant Ralph Lauren Polo-brand logo over the words DAVID'S BAR MITZVAH. They are snacking. It is Friday. Today they shoot guns, real guns, not paintball; tonight they pray at the Western Wall, followed by a Sabbath buffet dinner; tomorrow, young David is called to the Torah. Read More »