Posts Tagged 'Gregory Corso'
May 7, 2015 | by Chris Jackson
Paul Beatty's recurring themes—race and tribalism, human psychology, ambition and failure, and the haunting presence of history—are the heavy ones. But he moves through them with light steps, his precisely choreographed Southern California meander broken by exuberant outbursts of buck dancing and the occasional disemboweling. His early poetry and his first novel, The White Boy Shuffle, opened up expansive new territory for writers trying to build an alternative literature, one that found its energy and idiom outside of the traditional American literary complex. But he has always belonged only to himself, unrushed and unburdened by any scene or movement.
I first encountered his work through the Nuyorican Poetry scene in the nineties. I remember feeling that wash of recognition and estrangement that certain books conjure—I was surprised by the familiarity of the voice, and thrilled by the weird, reckless shit it was saying. Paul seemed to come from the world I knew, a world filled with outsiders and cultural polymaths but still thick with the strange incense of African American life—where Amiri Baraka was a comedian, Kurt Vonnegut was black, and Ice Cube was an arch satirist. It was life-changing to see that world animated by Paul's particular offbeat, backtracking, culture-swallowing genius. Beatty writes laceratingly funny books that often turn on the subject of race, but more than that, his novels are flares sent up—for anyone who happens to be looking—that illuminate the persistent and irreducible feelings that rumble in our deepest places. They're about hope and failure and loss, the absurdity of systems and the loneliness of being our own weird selves. And they're about the beautiful consolation of seeing it, really seeing it, in all its pain and nothingness, and laughing.
Paul's latest novel, The Sellout, comes at an interesting moment in the eternal—and eternally recycled—American "conversation on race." The protests that have broken out across the country over police violence have had a powerful undercurrent of black humor. My Twitter feed is illustrated with wild, vivid scenes that would be right at home in a Beatty novel: Newsman Jake Tapper in Ferguson for ABC News with a protestor behind him holding up a sign: IS IT OPEN SEASON ON A NIGGA'S ASS???????; CNN reporters getting their microphones jacked midinterview by angry protestors; a (probably doctored) photo of a young black boy riding a hijacked police horse away from the scene of a riot. Years ago, Beatty identified the source of this sort of dark comedy. "African Americans," he wrote in one of his section introductions for Hokum, "like any other Americans, are an angry people with fragile egos. Humor is vengeance. Sometimes you laugh to keep from crying. Sometimes you laugh to keep from shooting … black folk are mad at everybody, so duck, because you're bound to be in someone's line of fire."
Paul and I had a long talk in front of a single cup of coffee at a café in the East Village. That wide-ranging, candid interview was cursed by the gods of Cupertino and lost forever. Paul, being a mensch, agreed to meet me again at a different East Village café, and just as he started to open up about the path of his career, we were interrupted—our quiet café hosted a comedy night. We fled to yet another café, where we had this conversation. Read More »
June 11, 2012 | by Craig Hubert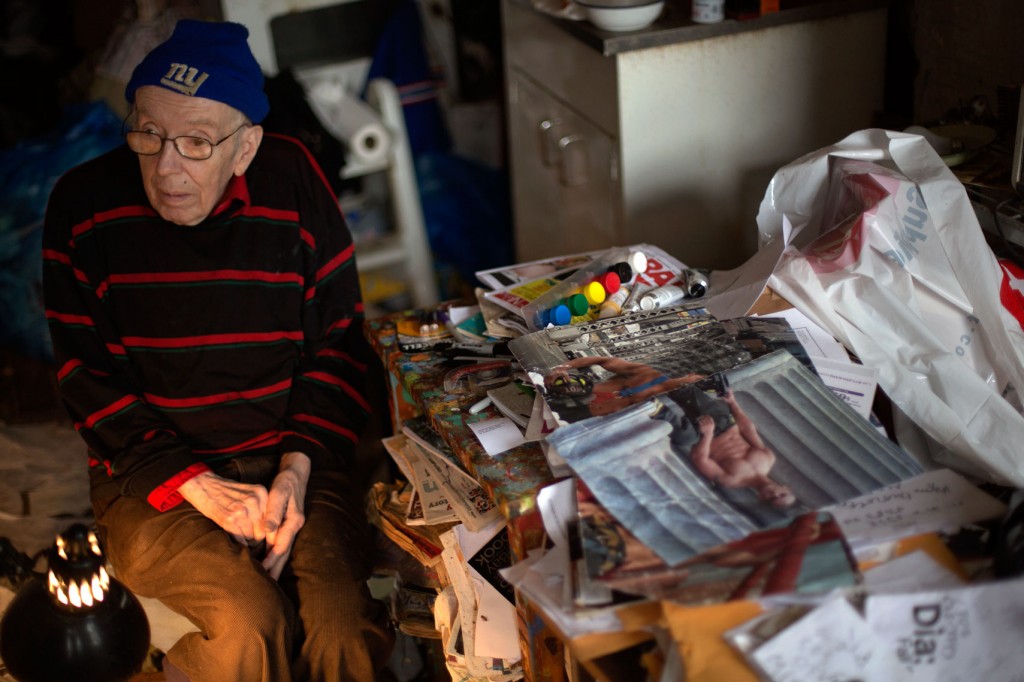 Taylor Mead is dishing gossip. "For our final exam"—in boarding school, where he studied English with the novelist John Horne Burns—"he said, write four hundred to five hundred lines of poetry from memory. It was unbelievable. He killed poetry for me. I haven't been able to read more than two poems a month since." Burns would later write a novel loosely based on his time teaching at the school, rife with homosexual undertones. Taylor said he would have enjoyed school if he knew all the great stuff that was happening behind the scenes. "If they want me to make a commencement speech, they better fasten their seat belts," he joked.
Taylor sat across from me at a small table near the front door of Lucien, a French bistro on First Avenue near the corner of First Street. When I walked in the door, the legendary East Village resident and professional bohemian was already sipping from a glass of Dewar's, waiting patiently. Lucien is Taylor's favorite restaurant; it's one of the few places he leaves the apartment for. At eighty-seven, he still resides in the neighborhood he has called home, more or less, for more than four decades. Now, though, he has trouble walking more than a few blocks. Read More »