Posts Tagged 'graphic novels'
February 13, 2014 | by Harry Backlund
On Art Spiegelman's new stage show, Wordless!
In 1970, when Art Spiegelman was twenty-two, he went to a gallery opening in Binghamton, New York, for an exhibition of woodcuts by Lynd Ward. Spiegelman wanted to tell Ward how much he admired the wordless novels the artist had made in the 1930s, but also, and no less importantly, he wanted to ask him what his favorite comic books were. The way Spiegelman tells it, the sixty-five-year-old Ward was gracious but confused: he didn't know much about comics; his Methodist minister father had forbidden them. Ward's woodcut novels, which blended Depression-era social realism with a Faustian sense of good and evil, owed more to the biblical engravings of Gustave Doré than they did to the Sunday funnies. Spiegelman didn't get the comics talk he came for, but he spent some time in the gallery, studying those prints. Two years later, he composed a four-page comic about his guilt over his mother's suicide. It was just a few panels, but their startling intimacy set the pattern for much of his later work, including the Pulitzer Prize–winning Maus, in which they were later included. Spiegelman titled that short comic "Prisoner on the Hell Planet," and in its stark style and pitch-black outlook, you can see the influence of Ward's woodcuts.
Spiegelman has given Ward's novels a central role in Wordless!, the new stage show he created with the composer Phillip Johnston, and which the two men presented twice last Saturday to sold-out crowds at the University of Chicago's Logan Center for the Arts. Wordless! weaves together Spiegelman's reflections on the history of wordless novels with slide show projections of the genre's classic works, which Johnston and his sextet accompany with rollicking, klezmer-inflected, vaudeville jazz. The back-and-forth between lecture and performance neatly captured Spiegelman's ambivalence about his role on stage. On the one hand, he was a comic artist on a mission, there to add a new branch to the family tree of the graphic novel, one that would demonstrate the genre's deep roots and help solidify its place in the canon of "real literature." Mostly though, Spiegelman was having fun. He was there to give the crowd what he had sought from Ward: a conversation about some of his favorite comics and a taste of the overwhelming pleasure they give him. "Don't worry if you get a little lost while you're watching," he reassured his listeners between puffs on his e-cigarette. "I'm hoping you will careen between my words and these picture stories until you're left as breathlessly unbalanced as I am." Read More »
March 12, 2013 | by Adam Thirlwell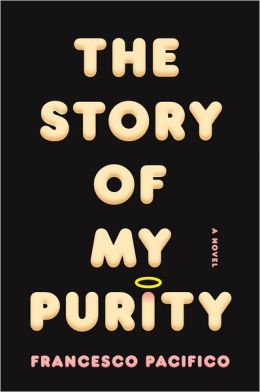 Francesco Pacifico's novel The Story of My Purity is narrated by Piero Rosini. This Piero seems like most other modern schlubs—thirty, overweight, bourgeois, in a sexless marriage, you know it—but the thing that makes him unusual is his deep belief in Christ. This is the most Catholic narrator in contemporary literature. He is also the funniest Catholic narrator in contemporary literature. And what happens to Piero is some kind of picaresque adventure that takes him from Rome to Paris and beyond, into all the problems of his innocence. What else do you need to know about Piero's creator? Francesco Pacifico is also a translator from English into Italian, and translation is something we talk about a lot. In fact, he has almost definitely read more fiction in English than you have. And if an inglese italianato is the devil incarnate, then what does that make an italiano americano? I just mean that Francesco Pacifico is one of the least innocent novelists I know.
There's a moment where Piero says "nobody's Roman," and this setting of Rome is crucial to the book's opening. So my first question is, are you Roman?
I am, and I'm not. I was born in Rome and have lived there all my life. But I don't know how to cook trippa and pajata, I know nothing of Rome's cuisine pauvre, my family's half-assed culinary traditions are half abbruzzese and half everything. My father's side comes from L'Aquila, Abbruzzio, where my granddad's family was big during the Fascist era, or so I'm told. My mother's side is from everywhere, the hills of Sabina, and remotely Spain and France, and they travelled the country as my granddad was an engineer for the electric company—Milan, Genoa, Terni. I don't feel Roman. You can spot a real Roman from miles. Savvy, gritty, ironic. I'm not.
And now—to keep with first things first—could you talk a little about this theme of purity? It seems such a gorgeously perverse subject for a contemporary novel. What's the beauty of purity?
I experimented with not having sex for years. And I am a renowned lover of women. There was a time in my midtwenties where I thought of my life as an ongoing piece of performance art, and I realized the big thing I should try was to stop having sex. I had this romantic view of my love for my girlfriend being exalted and enhanced by abstinence. I became impotent. Read More »