Posts Tagged 'gift ideas'
December 3, 2014 | by Sadie Stein
Here's a gift idea for you, suitable for children and arrested adults—which is to say, a large part of your Christmas list. Go online at once and buy several copies of McCall's Giant Golden Make-it Book.
Until recently, I had totally forgotten about the Giant Golden Make-it Book, but I ran across a copy at a used bookstore and immediately realized how well it's held up. Simply put, no modern activity book can compare. It's truly giant, and really comprehensive, but like the same-vintage Betty Crocker's Cookbook for Boys and Girls, it's as much about the illustrations as the ideas. A smart publisher has seen fit to reissue the latter; McCall's really needs to do likewise.
There's everything you might hope for—games and homemade costumes and simple recipes and easy knitting instruction and theme parties—but also a lot of things that never occurred to you. Dutch painting! Soap carving! Elementary flower arranging!  Read More »
June 5, 2012 | by Lorin Stein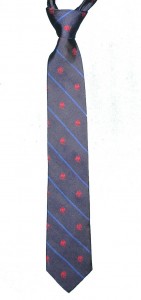 A few months ago our friend Kirk Miller, of Miller's Oath, made a small batch of Paris Review ties–twenty-four, to be exact. I bought one. Several members of our board did the same. We have four ties left—one of each! So, as you see, this is a true limited edition. Give one of them to your dad for Father's Day. Each comes with a free subscription to The Paris Review. Buy one today!
While supplies last.