Posts Tagged 'gentrification'
April 8, 2014 | by Dan Piepenbring
Smithsonian Magazine, Beautiful Decay, and others have recently featured photographs from Store Front: The Disappearing Face of New York, published in 2008 by James and Karla Murray. In 2004, the couple "began a project to capture New York City's iconic storefronts—the city's unique, mom-and-pop restaurants, shops, and bars—before they disappeared." Now, ten years later, they've revisited the storefronts to find that most of shops have, in fact, disappeared: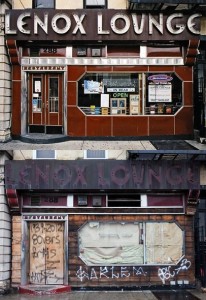 Many traditional "mom and pop" neighborhood storefronts that had prevailed in some cases for over a century were disappearing in the face of modernization and conformity, and the once unique appearance and character of New York's colorful streets were suffering in the process … We noticed very early on while photographing the original stores that if the owner did not own the entire building, their business was already in jeopardy of closing. The owners themselves frequently acknowledged that they were at the mercy of their landlords and the ever-increasing rents they charged … When the original 2nd Avenue Deli location in the East Village closed in 2006 after the rent was increased from $24,000 a month to $33,000 a month, and a Chase Bank took over the space, we knew the contrast of before and after was severe.
More of the photos can be seen on James and Karla's Facebook page. They're especially sobering given the sad fate of Rizzoli Bookstore, which will shutter its beautiful, historic Fifty-Seventh Street location on April 11.
March 12, 2012 | by Christopher Bollen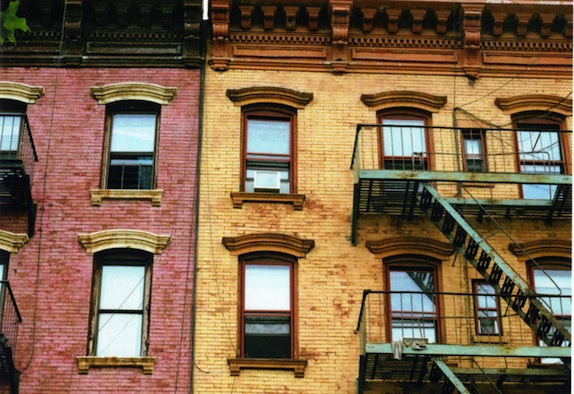 "Love amid apocalyptic urban debris, love amid pimps and drug pushers, love on staircases scattered with used needles … can barely pay the rent." This was not an atypical note to find myself jotting down in my early twenties, part of a scribbled, half-legible foray into a novel I would never write. I wrote this in 2002, three years into my very first no-lease, single-occupant New York apartment and one year before I would eventually leave it, fleeing on grounds of emotional distress for a nondescript studio in Gramercy across from the Thirteenth Precinct (note my subconscious need for police protection). The cloying repetition of the word love suggests a rather flagrant tendency toward romanticizing crime and poverty, the ellipses symptomatic of someone too undisciplined to develop a thought. The only real character of this imaginary novel is the building. At least it was for me during the years that I called 314 Bedford Avenue, between South First and South Second streets on the grimy, sun-bleached south side of Williamsburg, my home.
To pass by the six-floor tenement now is not to see the building I lived in a decade ago. DuMont Burger has replaced the Puerto Rican dry cleaners in the street-level store front, where I never recall a single person entering or exiting with pressed shirts or anything approximating a claim ticket. Green metal café tables have taken the place of the wheelchair-bound homeless man with no legs who lived and slept seated for nine months of the year outside the entryway, his single mode of communication being "don't touch me!" whenever anyone asked if he needed help. The building's facade, still the color of a sick tongue, seems to have been water blasted, and the fire escape has been skinned and painted. As New Yorkers, we all live in a peculiar state of location upgrade, a kind of reverse Manderlay, where places we had once known have outpaced our own internal soft-focus (as an exercise, I recommend replacing the word nature with real estate developers in the opening page of Rebecca). Memory must do the decay work of time, and it is here at 314 that I remember the black, rusted iron gates of the front door, the hallway swabbed in yellow plaster, the chipped linoleum floor tiles attempting a marble mosaic, the five flights up to my apartment where, even drunk at 2 A.M., I had to be careful not to step on syringes, used condoms, sleeping prostitutes, and take-out ketchup packets. Read More »