June 21, 2012 | by Thomas Gebremedhin
I remember reading my first Ann Beattie story. I was sitting in my dorm room on a loft bed with a hard mattress. This was in North Carolina, at night. The dorm was a big stone structure with crenelated battlements that made me dream of castles. My room overlooked the main quad, and I often heard boozy students in the background, college kids stumbling from the buses as they made their way across the lawn and back to their rooms. I was reading from a paperback copy of Park City. I don't recall much else. I was probably in sweats and an old tee that smelled like pot, lying on my bed, legs crossed with Beattie's book upright on my chest. Since it was late, I had likely already eaten dinner—gluey pasta and mozzarella sticks delivered in foil pans. Maybe the door was locked. But what I do remember is this: the soft shiver that gathered at the back of my neck as I flipped through the final pages of "The Burning House" and, in the end, chilled me to my core.
After that first story, I kept reading. Aside from admiring her effortless, cool prose, I was drawn to Beattie's gay characters. They were everywhere—"The Burning House," "The Cinderella Waltz," "Gravity"—and they were so different from the kinds of gay characters I was used to reading about. None of them were dying of AIDS or getting beat up or coming out to their parents. Instead, they drank Galliano by the bottle and ashed their joints in unusual places—a boiling pot of sauce, for instance. The same could be said for the other characters who populated Beattie's fiction. Their problems were so … ordinary.
But if you lined me and Beattie's characters up, I'd stick out like a sore thumb. Here's the difference: Beattie's boys and girls are Greenwich, Connecticut; I'm just a kid from Columbus, Ohio. They're post-Woodstock; I'm post-Britney. Even though I've traveled with parents as far as Rome and the Red Sea, we don't have a mountain home in Vermont. We don't have friends who own an art gallery in SoHo.
July 19, 2010 | by Hilton Als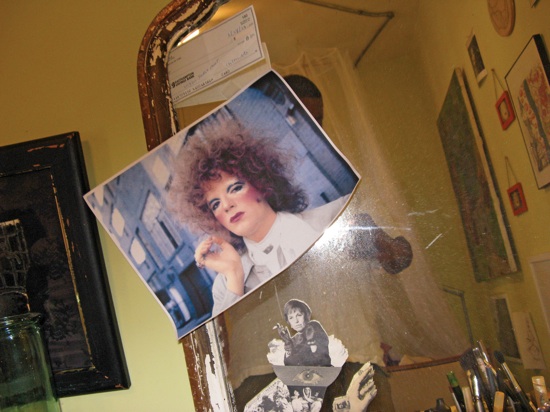 It's the queers who made me. Who sat with me in the automobile in the dead of night and measured the content of my character without even looking at my face. Who – in the same car – asked me to apply a little strawberry lip balm to my lips before the anxious kiss that was fraught because would it be for an eternity, benday dots making up the hearts and flowers? Who sat on the toilet seat, panties around her ankles, talking and talking, girl talk burrowing through the partially closed bathroom door and, boy, was it something. Who listened to opera. Who imitated Jessye Norman's locutions on and off the stage. Who made love in a Queens apartment and who wanted me to watch them making love while at least one of those so joined watched me, dressed, per that person's instructions, in my now dead aunt's little-girl nightie. Who wore shoes with no socks in the dead of winter, intrepid, and then, before you knew it, was incapable of wiping his own ass—"gay cancer." Who died in a fire in an apartment in Paris. Who gave me a Raymond Radiguet novel when I was barely older than Radiguet was when he died, at twenty, of typhoid. Who sat with me in his automobile and talked to me about faith—he sat in the front seat, I in the back—and I was looking at the folds in his scalp when cops surrounded the car with flashlights and guns: they said we looked suspicious, we were aware that we looked and felt like no one else.
It's the queers who made me. Who introduced me to Edwin Denby's writings, and George Balanchine's "Serenade," and got me writing for Ballet Review. Who wore red suspenders and a Trotsky button; I had never met anyone who dressed so stylishly who wasn't black or Jewish. Who, even though I was "alone," watched me as I danced to Cindy Wilson singing "Give Me Back My Man," in the basement of a house that my mother shared with her sister in Atlanta. Who took me to Paris. Who let me share his bed in Paris. Who told my mother that I would be O.K., and I hope she believed him. Who was delighted to include one of my sisters in a night out—she wore a pink prom dress and did the Electric Slide, surrounded by gay boys and fuck knows if she cared or saw the difference between herself and them—and he stood by my side as I watched my sister dance in her pink prom dress, and then he asked what I was thinking about, and I said, "I'm just remembering why I'm gay." Read More »