May 2, 2014 | by Ali Pechman
The noir and gothic films of the forties and fifties often feature beguiling portraits, paintings that possess a strange power; they inspire acts of fraud, forgery, theft, murder, and obsession. Think of The Woman in the Window, Laura, or Vertigo: in the first few scenes of each film, a kind of investigator becomes enraptured with a woman who also appears in a painted portrait—and, often, the twist reveals that she's not who she seems to be. In Laura, the portrait itself stands in for the woman who's supposedly disappeared, as Detective Mark McPherson investigates the crime—until, that is, Laura walks into her old apartment, where the detective is sleeping beneath the portrait that so intrigued him. The portrait serves as a kind of false look, or false double, that only can really be appreciated on film.
The artists who created these portraits—usually just large-scale photographs slapped with varnish—typically went uncredited; today most of the portraits themselves have gone missing. In The Dark Galleries: A Museum Guide to Painted Portraits in Film Noir Gothic Melodramas and Ghost Stories of the 1940s and 1950s, the art and film historians Steven Jacobs and Lisa Colpaert have created a guide to an imaginary gallery of these imaginary paintings, which often took imaginary people as their subjects.
What interested Jacobs most was not so much the portraits themselves, but the roles they played in their respective films: they reflected how people thought they should behave in front of pieces of art. The plots of these films often came from classic literature or standard noir fare, but it was film techniques that brought the paintings into more direct conversation with the narrative. Read More »
May 29, 2012 | by Sadie Stein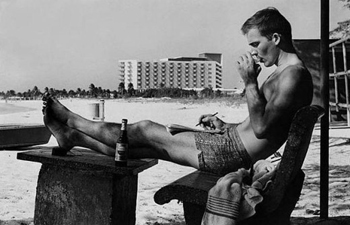 Summer has kicked off, and hereabouts, at least, it actually feels like it. In honor of the stifling humidity, enjoy Flavorwire's gallery of writers in bathing suits. Chances are you've seen Sylvia Plath and Papa in their respective kits, but Eugene O'Neill? Anne Sexton? Special points to Hunter S. Thompson, left, for actually working (and drinking) in swimwear.