July 2, 2014 | by Adee Braun
The free-love couple who pissed off nineteenth-century America.
In the summer of 1853, the Tribune of New York published a pointed letter directed at the proprietors of the American Hydropathic Institute, a "health institute" in Port Chester, denouncing the establishment for spreading "free and easy notions respecting Love and Marriage." Its reputation locally was as a bawdy place, a breeding ground for anarchy, free love, and other dubious socialist practices. Shortly after this public cudgeling, enrollment dropped, the institute closed, and its proprietors disbanded, taking their unsavory ideas with them to Long Island. On one hundred acres of wooded land, they rebuilt the institute with the modest aim of rectifying society's ills.
The institute was, at least nominally, a school for hydrotherapy, or water-cure, a popular nineteenth-century health movement that rejected drugs in favor of precise bathing regimens and an ascetic lifestyle aimed at keeping the body, mind, and spirit in careful order. The school was the vision and creation of Dr. Thomas Low Nichols and his wife, Mrs. Mary Gove Nichols. She was a freethinking novelist, an early feminist, and a health reformer; he was a physician, a progressive journalist, and a social agitator. Together they amassed fervent followers and passionate detractors, synonymizing the name "Nichols" with licentiousness and radicalism.
In the years before the Civil War, America was inundated with reformist ideologies—a response to societal shifts brought on by rapid social and economic changes. The Nicholses embodied this anxiety: they embraced a smorgasbord of nineteenth-century reform movements, sampling generously from socialism, free love, spiritualism, mesmerism, phrenology, hydrotherapy, and other progressive health and social ideologies. Few radical figures were as devoted to the twin causes of individualism and love. Their ideal union was one in which plurality of love was openly embraced and each individually sovereign man and woman was "drawn together solely by the charm of a mutual attraction," as they jointly wrote in Marriage: Its History, Character, and Results in 1854. "Such a union seems to us to constitute the true marriage of mutual love in perfect freedom." Read More »
June 9, 2014 | by Dan Piepenbring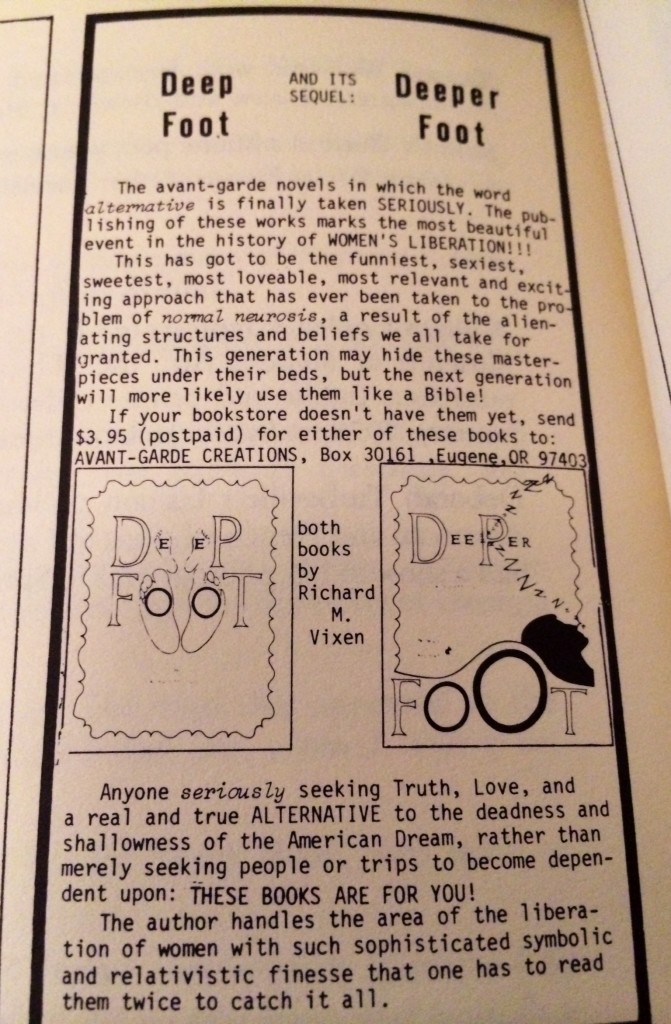 Above is an advertisement from our seventieth issue—published in the summer of 1977—for Deep Foot and its sequel, Deeper Foot, two apparently seminal avant-garde novels. Click the photo to see the ad in full; it merits scrutiny.
Anyone seriously seeking Truth, Love, and a real and true ALTERNATIVE to the deadness and shallowness of the American Dream, rather than merely seeking people or trips to become dependent upon: THESE BOOKS ARE FOR YOU!
"This generation may hide these masterpieces under their beds," the ad goes on, "but the next generation will more likely use them like a Bible!"
I'm of that next generation, and I can tell you: we most certainly would, if we only knew where to find them.
Information on the whereabouts of Richard M. Vixen has been hard to come by—we appreciate any tips you can offer. We do know that Avant-Garde Creations, of Eugene, Oregon, was in existence as recently as 1981, when the company took out an ad in Yoga Journal—a questionnaire, in fact, whose first prompt is "Are you conscious of a deep desire to be in an environment in which you could choose to be with any of 20 (or so) people, all of whom you love and who love you?"
Evidence indicates that Mr. Vixen wrote, in addition to the series advertised here, The Game of Orgy (with a foreword by Robert Rimmer) and The Magic Carpet and the Cement Wall, for Kids from 8 to 92. A rhapsodic Amazon review of Deep Foot describes it thus:
A triumphant, voluptuous novel about a woman's enlightenment. A mercilessly erotic, tenderly passionate journey into love and awareness.

When Lotta escaped from her prison of beliefs (about what she thought her life was supposed to be about) she found a whole new world of love and beauty awaiting her, and she fell in love with … Everyone!
A dissenting critic writes, "Reading it felt a bit like watching a non-lethal crash between two clown cars happen in slow motion."