Posts Tagged 'Francisco Goldman'
June 1, 2012 | by Matteo Pericoli
A series on what writers from around the world see from their windows.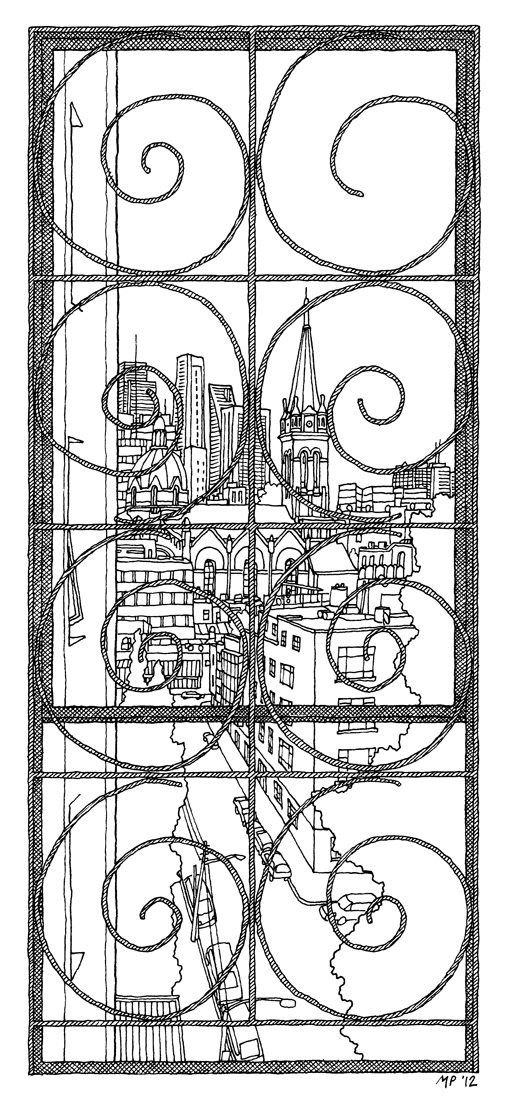 My desk is snugly ensconced in a front corner of the living room, facing wall and bookshelves, a wide window overlooking a park in Colonia Roma to the right and, on my left, the narrow side window drawn by Matteo. I'm sharing the apartment with my friend Jon Lee, who is almost always traveling, but he needed a Latin American base for his work. We only moved in a month ago. It's the biggest apartment I've ever lived in. The living room is so immense that I bought a football (not a futbol) just to prove you can play catch in it, and now I am looking for a wiffleball batting machine, which I think would be a great way to manage the persistent physical restlessness that often makes it so hard for me to sit still at a desk. In the mornings I go down to a café facing the park for breakfast. They have terrific coffee. I usually have the waitress tell me about the chilaquiles, the enfrijoladas, molletes, and omelettes just so that I can savor her descriptions, and then I order the fruit and granola, and she makes fun of me for that. I work in the café for two or three hours and then go back to the desk in my apartment. Apart from a break for lunch, I try to work until seven in the evening, and then usually head to the gym. We're right around the corner from one of Mexico City's greatest cantinas, one I'd been coming to for years from more distant neighborhoods. They have a funny ritual there. A waiter will ring a bell to catch everyone's attention, shout out a name, and then the cavernous room will resound with raucous shouts of ¡Pendejo! (it means, more or less, "asshole!"). You have to pay the waiter to do that. Once a good friend, a writer from Ireland, was visiting, and he paid the waiter to shout out the name of another Irish writer who'd given him a nasty review, and the waiter, though he could barely pronounce the name, shouted it out, and everyone in the cantina, the old men playing dominoes, the Mexican and foreign hipsters, and literary types who also hang out there, et cetera, joyously shouted "¡Pendejo!" —Francisco Goldman
May 3, 2011 | by Lila Byock
"Esto es tu culpa," Francisco Goldman was told by his mother-in-law, as his wife, Aura Estrada, lay dying in a Mexico City hospital. This is your fault. Goldman and Estrada had been vacationing on the Pacific Coast when Estrada was fatally injured by a freak wave. She was thirty years old, a writer on the brink of a promising career. Goldman is also a writer; his latest novel, Say Her Name, centers on Estrada's death. The narrator, also named Francisco Goldman, is grappling with his mother-in-law's accusation of murder. The book is part mystery, part biography, part meditation on grief, and, finally—mostly—a love story. Goldman's writing has astonished me in the past (notably his underread 2004 novel The Divine Husband), but Say Her Name is powerful and surprising and even funny in ways that feel unique. He has, in a sense, invented a form. Goldman met me for drinks recently at a bar not far from the Brooklyn apartment he and Estrada shared. This is an abbreviated transcript of our conversation.
How long after Aura's death did you start working on the book?
I started working on the book in December. She died in July. Those ensuing months after Aura's death were so horrible and I was probably drunk for almost all of it. In December—I was dreading being alone in our apartment over the holidays—Chloe Aridjis, the writer from Mexico City who was living in Berlin, offered me her apartment. It was this very literary apartment with a very nice writing desk, and it was good to be someplace where I didn't know anybody. And the city itself—it seemed cold, gray, a rainy drizzle coming down every day that almost made nighttime seem like daytime—it somehow matched my mood perfectly. I started it there, and in a way the book accompanied me through my mourning. It was like my indispensable other self.