Posts Tagged 'found images'
March 18, 2015 | by Natasha Stagg
Dian Hanson has made a career of "probing the subtleties of male lust." In 1976, she began to edit such successful fetish magazines as Juggs, Oui, Leg Show, and Outlaw Biker. Pornography, at that time, had just gone through one of its more awkward phases. Amid the psychedelia and taboo-busting of the sexual revolution, men's magazines weren't sure how far to go in depicting free love; an industry built on forbidden fantasy risked being outpaced by real life.
That dilemma is at the heart of Psychedelic Sex, which catalogs, with more than four hundred pages of art, the attempts by men's glossies to offer an authentic hippie sex trip. More than an exercise in kitsch, the book captures a shift in male sexuality—it reminds of a time when pornography and the stories it tells about our culture were completely different than they are today.
Hanson, who's now the official "sexy editor" of Taschen Books, is uniquely informed, having seen pornography as a photo and text editor, an advice writer, an occasional model, and a true fan. From her home in Los Angeles, she spoke to me about changing mores, the contempt for pornography even among those who make and consume it, and the many misconceptions of the male psyche.
Psychedelic Sex is about magazines from the late sixties and early seventies, which you seem to have a vast knowledge of, even though you didn't start editing magazines until 1976.
This book was an offshoot of my six-volume history of men's magazines. When I was doing the fourth through sixth volumes of that, I hooked up with a collector in San Francisco—Eric Gotland, who was a rock manager. He made a lot of money with Third Eye Blind and used it to fulfill his adolescent fantasy of owning every issue of every men's magazine ever made. Of course, once he started on this journey, he found that there were so many men's magazines that it was impossible to buy them all. Still, he filled a warehouse in the Potrero Hill section of San Francisco with these magazines, buying like a lunatic on eBay and everyplace he could find them. I would go up there and go through the boxes with him, which was a joy. We started finding all this psychedelic stuff, and he was a particular fan of it—he'd been too young to be a part of the sexual revolution, but he was fascinated by it, as any ten-year-old boy would be. We decided that this would make a great book on its own, mapping this strange subgenre that tried to represent hippies and hippie sex and the drug experience for straight guys who felt left out of the whole sexual revolution. They went on from about 1967 to about 1973. Read More »
April 10, 2012 | by Yevgeniya Traps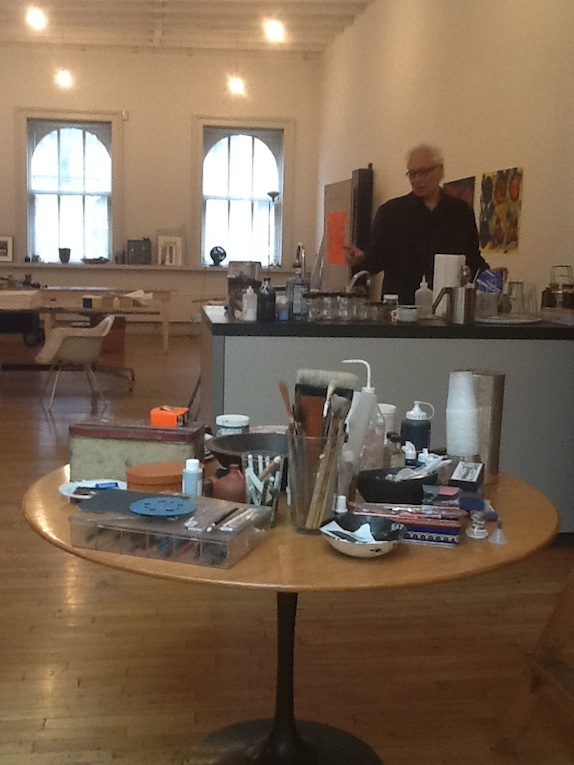 Terry Winters works on the fifth floor of a Tribeca walk-up. It is a steep climb, but the space is serene and open, decorated with a few large Nigerian ceramics, a framed Weegee photograph, and of course Winters's own drawings and watercolors (he does his oil painting in a studio in the country). It is also remarkably free of clutter for an artist who describes himself as an "image junky." Winters spends a lot of time here—"I try to show up for the job," he remarks when I ask him about his daily practice—though he does not have much by way of routine, allowing the needs of the project to shape his day.
This year marks the thirtieth anniversary of Winters's first solo show at the Sonnabend Gallery. Now represented by Matthew Marks, Winters's work continues to be informed by the ideas that animated his very first exhibition. One constant—besides his New York studio, where he has worked from the very start of his career—has been his use of found images, which he faithfully collects and assembles into collages that serve as miniature laboratories for future paintings. But the collages, with their layers and juxtapositions, their invocation of modern technology (several feature visible URLs, linking to universities and laboratories) and natural forms, are also lovely in their own right. Read More »