Posts Tagged 'food writing'
June 6, 2014 | by Sadie Stein
On Wednesday, I mentioned to you a certain menu description. This description caused something of an existential crisis. I wept; I ranted; I pondered existence. But life is not just a vale of tears!
I might still be lying in bed, paralyzed by the enormity of everything, had I not been saved by yet another piece of food-related writing. This one came courtesy of a slightly outdated gourmet-store catalogue I picked up at the airport last week. I say "outdated" because it contained a number of Easter and Passover treats available for purchase. I always find looking at food relaxing, but when I opened it, I found that this catalogue was much more than just pretty pictures and appetizing captions. It was riveting.
The prose was bold, even dashing. Also, bizarre. Here is a description of all-butter croissants:
Boasting French connections of the cuisine nature, they immediately bring to mind afternoons on the Seine. Indeed, it is their verity that affords them this intensely delicious recall.
On a certain flowering tree, sold in the garden center: Read More »
May 20, 2011 | by Lorin Stein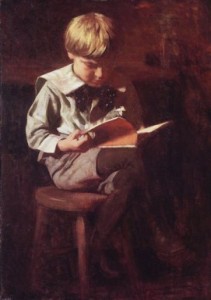 Since being diagnosed with various health and digestive problems, I've had to change my diet and lifestyle drastically. In order to feel more as if it's my decision and not my doctor's, I have read various books on diet and nutrition, like Loren Cordain's The Paleo Diet and Gary Taubes' Good Calories, Bad Calories. But diet and nutrition books are one thing. Now I've discovered the amazing thing that is food writing, through my reading of Mireille Guiliano's French Women Don't Get Fat. Who needs to eat bad food when you can read delicious descriptions of good food? I'm officially converted, but I don't know enough about food writing to know where to turn next. Can you recommend some good food books? —Hannah Gómez
Dear Hannah,
To answer your question, we enlisted Gena Hamshaw, who for years maintained a double life as a brilliant book editor and a plant-based nutritionist. She kindly sent us the following:
Isn't it amazing to discover how much nutrition writing pales in comparison to really wonderful food writing?

If you're just getting into the world of gastronomical prose, you should probably begin by reading everything M. F. K. Fisher ever wrote. And if that's too much, do at least read The Gastronomical Me, How to Cook a Wolf, and An Alphabet for Gourmets. They're all exquisitely written, brilliant, and sumptuous, but never precious (which is a rare balance in the world of food writing).

When you've finished devouring the Fisher oeuvre, you may want to explore some of Elizabeth David's work, which is a little more exacting but no less smart. French Country Cooking and French Provincial Cooking are the real stars, but if you've had enough of France, Italian Food is great, too. A little more contemporary but just as compelling are Laurie Colwin's food books; Home Cooking is a must read. And if you're interested in the politics of food just as much as its pleasures, Michael Pollan's The Omnivore's Dilemma is fairly indispensable.

Of course, lots of cookbooks feature writing that's fine enough to stand apart from the mouth-watering photos and instructions. I'm thinking in particular of Anna Thomas's The New Vegetarian Epicure, which might as well be an essay collection, Deborah Madison's Vegetarian Cooking for Everyone (don't let the candid and modest attitude fool you; the writing is superb), and most anything by Alice Waters. Mark Bittman's writing is direct but sparkling with wit.

Keep in mind, though, that some of today's best food writing is on the web. Food blogs are tremendous resources, not only of recipes, but also of passionate and erudite food writing. I recommend Clotilde Dusoulier's Chocolate and Zucchini, Shauna Ahern's Gluten Free Girl, Molly Wizenberg's Orangette, and, if you've got the patience for a perspective that's as far from Paleo as can be, you can poke around my blog, Choosing Raw. Explore blogrolls and comments: the food-blog world is rich and full of excited writers.

Happy reading,

Gena
As a general rule of thumb, how can you tell if a crazy person is too crazy? —Going Nuts

Boredom. At least this is the view I heard years ago from a psychiatrist who spent his career treating schizophrenia. The tell-tale sign of insanity (he said) is to be profoundly boring to other people. There are some obvious holes in this theory; still, I like it on pragmatic grounds. Let's say a crazy person may be too crazy, but he or she interests you. Then you may want to say "too crazy for what?" Whereas, if somebody's droning on till you think you might cry—even if that person's in his or her right mind, who cares? It may not be grounds for committal, but you still want to get off the phone.
Have a question for The Paris Review? E-mail us.